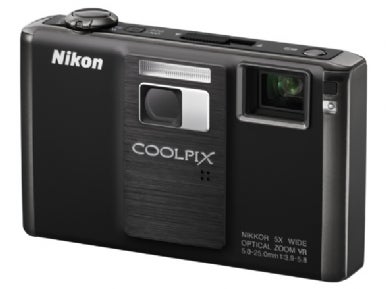 The beauty of a digital camera is that you can show off the results seconds after taking the shots. But sharing your photos with a large group means either being willing to let your camera get passed around or forcing everyone to crowd around the small LCD screen on the back. With the Coolpix S1000pj, Nikon offers a third option. This compact point-and-shoot camera can project your digital photos onto a nearby wall.
Simply turn the S1000pj toward a blank surface and press a button on the top of the camera to project a photo slide show or video. According to Nikon, the camera's projection distance ranges from 6 inches to just over 6 feet, with an image that is 40 inches (measured diagonally) at the farthest end of that scale. The S1000pj ships with a projector stand and a remote control that triggers the camera's shutter release as well as controlling the built-in projector.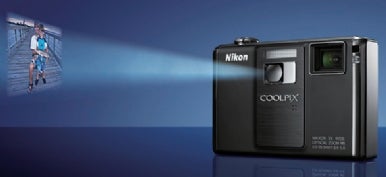 The 12-megapixel camera also features a 5x zoom (28mm to 140mm equivalent), optical and electronic image stabilization, and an automatic scene-selection feature in which the camera analyzes the image you're shooting and chooses the appropriate settings for you. The camera's Smart Portrait feature takes advantage of face-detection to soften skin tones, and offers a warning if your subject blinks.
The S1000pj will be available in September for $430.