Once you're back from vacation, it's all too easy to stash your latest video footage on the shelf with vague intentions of spending lazy evenings cutting together the footage. But the video can quickly pile up, until soon the idea of editing may seem overwhelming.
The trick to assembling your video—and sharing it with family and friends—is to break the process into smaller, more manageable chunks. Here's how.
1. Get it into iMovie. The Import window in iMovie '09 (choose File -> Import From Camera) lets you review and selectively import clips from your camera, but I'm more inclined to import everything and do the reviewing while I'm editing. (This option does require a lot of hard disk space, but storage is relatively inexpensive these days. If you can afford an external hard drive, it could make working in iMovie a lot easier.)
Let iMovie import while you're doing something more interesting than watching a progress bar (especially if you choose to analyze the footage for stabilization, which can take four to eight times the duration of the footage). This is particularly important if your camcorder records to memory cards or an internal hard disk: you'll want to offload the footage so you can use the cards for the next event.
2. Throw it out. Now that the video is in iMovie, it's time to toss the clips you know you'll never use. In the Event Library, scan your footage and delete whole clips by Option-clicking the clip thumbnail and then pressing Delete. The footage is actually just marked as rejected, not deleted permanently; in the Show pop-up menu, choose All Clips to see which ones are marked as rejected (they appear with a red stripe).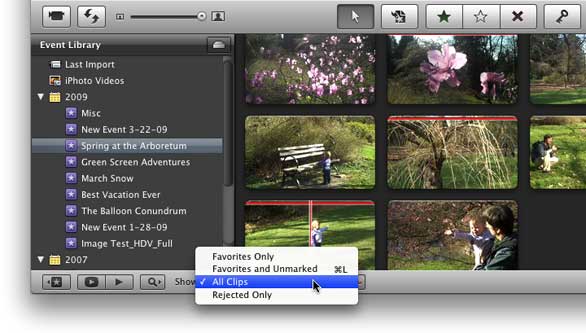 Note that we're not doing any precision editing here, just removing the obvious bad footage so it's not in your way.
3. Assemble a rough cut. Now comes the fun part. Add clips to the Project browser to start building your movie, including any photos for slide shows. Be selective, but don't get absorbed in making detailed edits.
4. Tighten. By now you'll have a good idea of what the end result should be. Tighten the edit by making surgical trims and using the Precision Editor to refine the cuts between clips. Pay attention to the movie's pace and whether it's running too long or short.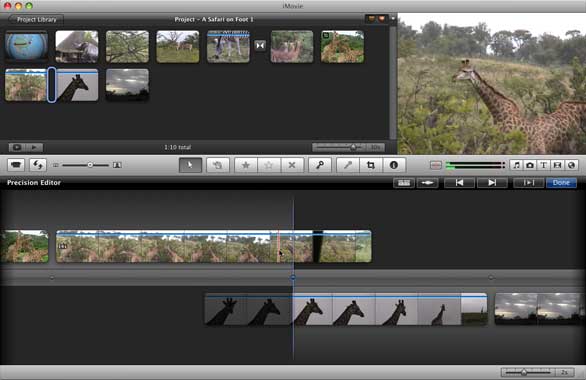 5. Wrap it up. Finally, when the edit is in good shape, add transitions, titles, and background music to polish the video and make it worthy of showing off to your friends and family.
Jeff Carlson is the author of iMovie '09 & iDVD for Mac OS X: Visual QuickStart Guide (Peachpit Press; 2009) and the managing editor of TidBits.