Nikon on Tuesday announced the addition of new point-and-shoot cameras to its Coolpix line, including the S70, S640, and S570. All three will be available in September.
The new S70 is the most stylish of the group, featuring a 12.1-megapixel sensor, a 5x wide-angle optical zoom lens (28mm to 140mm equivalent), and 5-way VR image stabilization. It supports ISO 6400 at full resolution. All of the S70's features can be controlled on the large OLED touch display. The vivid 3.5-inch touch screen allows you to swipe to scroll though images, pinch to zoom, and tap to control focus and exposure. The S70 also has HD video capabilities, recording at 1280-by-720 at 30 frames per second. The S70 retails for $300 and will be available in multiple colors and texture combinations.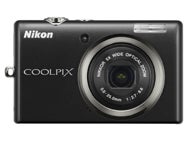 The most affordable of the new cameras is the Coolpix S570, which will replace the S560. The 12-megapixel S570 has a 5x wide-angle zoom lens, shoots up to ISO 3200 at high resolution, and keeps it steady with a 4-way VR image stabilization system. The S560 can record standard resolution movies, with sound, at 640-by-480 at 30 frames per second. The S570 costs $200 and comes in black, red, blue, or pink.
All three cameras include Nikon's Smart Portrait System, which combines a number of automatic features such as skin-tone smoothing, a blink warning, auto red-eye correction, and face-detection (up to 12 faces per shot) to produce more-flattering portraits.
Note: When you purchase something after clicking links in our articles, we may earn a small commission. Read our affiliate link policy for more details.