Mobile phone outfit INQ Mobile has launched two low-cost smartphones that feature tight integration with social-networking site Twitter, it said on Tuesday.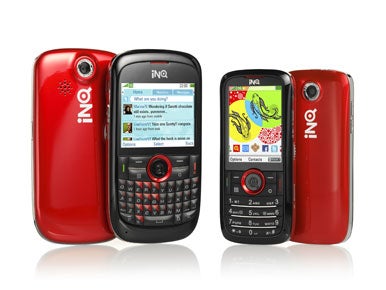 The INQ Chat 3G and Mini 3G contain a Twitter client that will always be on after the initial log-in. Consumers can send Twitter messages, and updates are delivered straight to the home screen.
Besides Twitter, the phones have integrated support for Facebook, Skype, instant messaging and e-mail.
INQ Mobile and its first phone, the INQ1, were launched in November 2008. Its mission is to develop affordable smartphones with easy-to-use Internet services, and the company has managed to change the game on how applications such as Facebook are integrated into smartphones, said Geoff Blaber, analyst at CCS Insight.
Blaber contends that INQ is still in a league of its own. But the larger mobile phone manufacturers are realizing that users want social networking integrated on their phones, he said. As the competition increases, INQ's challenge will be to remain one step ahead, Blaber said.
The INQ Chat 3G comes with a QWERTY keyboard, a 2.4-inch screen, a 3.2-megapixel camera and support for GPS.
The INQ Mini 3G is a candy bar phone. It has a 2.2-inch screen and a 2-megapixel camera.
Both phones can access the Internet using HSDPA (High-Speed Downlink Packet Access).
Pricing hasn't been announced. But the INQ1 is priced at £69.99 (US$120) for users who want to pay as they go, and Blaber expects the new phones to be in the same price range.
Both phones will start shipping during the fourth quarter from, among others, 3 in the U.K. Hutchison Whampoa backs INQ and 3. The INQ1 is currently available from 3 in the U.K., Ireland, Hong Kong, Italy and Australia, according to an INQ Mobile spokeswoman.