Quark on Tuesday announced the release of QuarkXPress 8.1, a new version of the company's flagship page layout software for Mac OS X and Windows. The update is free for registered QuarkXPress 8 users; upgrades to version 8 are priced at $299 for any previous version of QuarkXPress 3 or later, and $799 for new licenses.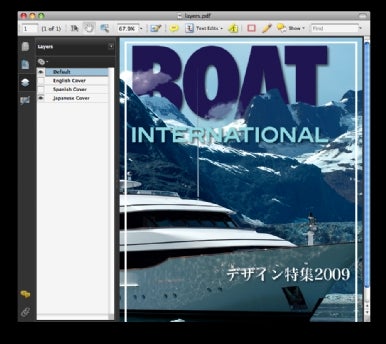 The centerpiece of QuarkXPress 8.1 is improved PDF output capabilities. The new version now supports a "Native Transparency" mode that allows transparent objects to remain unflattened in the final PDF output. The software also lets you control layers layer-by-layer in output, helpful if you need to send content with multiple variants (say, the same document in multiple languages) to an output provider within a single PDF file.
Other new features in QuarkXPress 8.1 include drop shadowing fully integrated in Item Styles and Item Find/Change; a new spell checking palette, and more precise and predictable picture drag and drop.
Enterprise improvements
Simultaneous with the release of QuarkXPress 8.1, Quark has also announced the release of an update to its enterprise-level Quark Dynamic Publishing Solution (DPS) system—Quark Publishing System (QPS) 8.1, QuarkCopyDesk 8.1 and QuarkXPress Server 8.1.
QPS 8.1 provides simplified Flash output generation, enabling QPS users to produce Flash banners and other Web content using QuarkXPress "on the fly." Text and picture boxes can now be dynamically resized to fit to the content, and the position of those text and picture boxes can also be positioned relative to other content in the layout. Quark says this will help with the production of newsletters, tech documentation, magazine pages and book layouts that need to vary in length.
QPS Web Hub now provides more powerful searches, including nested searches, along with workflow enhancements like the ability to check in, check out and edit Word, Photoshop, Illustrator and other kids of files.
Support for Lightweight Directory Access Protocol (LDAP) has also been enhanced — LDAP 3 is supported, with support for simple and encrypted authentication via MD5 Digest. Quark also claims that performance in QPS 8.1 has been enhanced with "significantly faster" project check-in and check-out.