More than six years after the launch of the iTunes Store here in the U.S., Apple has finally rolled out the world's most popular media store in our great neighbor to the south, Mexico. At last, access to the iTunes Store blankets North America, from Tapachula, Chiapas to Ellesmere Island.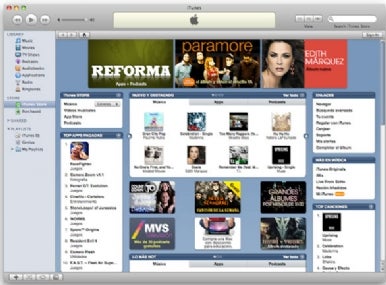 The iTunes Store in Mexico launches with millions of tracks from the four major labels, all in Apple's DRM-free iTunes Plus format, as well as from hundreds of the smaller indie labels. In particular, the company touted the inclusion of Mexican artists such as Paulina Rubio, Vicente Fernández, and Zoé.
Like iTunes customers in other countries, Mexican users can take advantage of features like Complete My Album and the ability to purchase advance tracks; iPhone owners in Mexico can also download tracks directly to their devices over the 3G network. The App Store has been available in the country since the launch of the iPhone 3G there in July 2008.
However, some things are lacking: in particular, the Mexican store does not feature movies or TV shows, though it does offer music videos and a wide variety of podcasts, including many popular Mexican shows.
What of price? Apple says most songs will go for 12 pesos apiece (that's about $0.92) while most albums will sell for 120 pesos (just over $9). Music videos will be available for download at a cost of 24 pesos.
Apple's also selling iTunes Gift Cards in popular Mexican chains like Liverpool, Mixup, and Office Depot, as well as at iShop, iStore, and MacStore. They'll be available in 200, 300, and 600 peso denominations.