Research In Motion (RIM) recently announced that it will finally release Macintosh-compatible desktop management software for BlackBerry handhelds this fall. I was lucky enough to get a quick hands-on demonstration this morning from RIM Product Manager Andrey Feldman at an event in New York City, and I dug up a few previously unannounced tidbits about RIM's upcoming software release for Apple computer users with BlackBerrys.
First of all, the Mac-version of BlackBerry Desktop Manager, or BlackBerry Desktop Software, its official name, will not ship along with the brand new BlackBerry Curve 8520, as previously reported by quite a few news outlets and blogs. Apparently there was some confusing language on RIM's website that suggested otherwise, but it has been modified to clarify that the software's expected some time in September.
Secondly, BlackBerry Desktop Software for Mac is mostly aimed at consumer users–and rightly so, as Macs still represent only a small percentage of enterprise PC deployments. That means the software won't have many of the corporate-mail/Outlook/Notes/etc. settings available within the PC-version of BlackBerry Desktop Manager. Specifically, there will be no Entourage/Outlook settings available to tweak or modify. (Think: e-mail signatures, reconciliation settings.)
"We've worked very hard to ensure that all the sync features are there," according to Feldman. The real focus in the first release of RIM's new Mac software is really on consumers and their syncing needs, he says.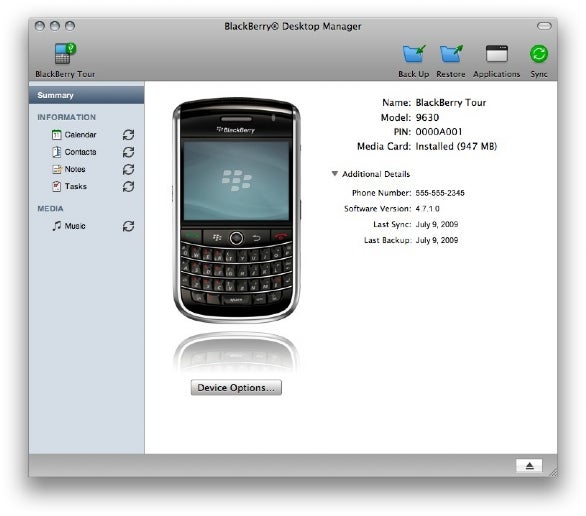 BlackBerry Desktop Software for Mac will be compatible with Apple PCs running Mac OS Leopard 10.5.5 and higher. And users will need to be running BlackBerry device software version 4.2 or higher to employ it, Feldman says.
Last but not least, there's no easy way to load "leaked" software on your BlackBerry device via BlackBerry Desktop Software for Mac, according to Feldman. This is particularly interesting, because BlackBerry users with PCs can currently load just about any sort of compatible BlackBerry files via BlackBerry Desktop Manager's App Loader component. Feldman wouldn't get into details on how the "blocking" process might work, but he did say there's something in the Mac version meant to dissuade users from loading unofficial software.
I'm anxious to get my thumbs on BlackBerry Desktop Software for Mac, and though I wish it offered all the same capabilities of the PC version and more, I understand why RIM decided to leave some components out of the first build. On that note, this is only the first iteration of BlackBerry Desktop Software for Mac, and you can bet more full-featured versions will pop up in the months and years to come.