QuickBooks maker Intuit on Tuesday announced the release of GoPayment, a free application for the iPhone and iPod touch designed to help businesses process credit card payments.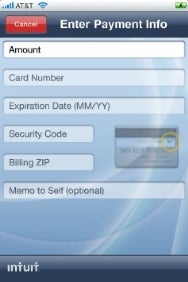 The software lets you enter the amount to be charged and the customer's credit card number. Once the transaction is processed you can either e-mail or text message the receipt to your customer.
What's more, any transaction information produced using GoPayment is available online from Intuit's Merchant Service Center. You can also synchronize those transactions with QuickBooks, Intuit's small business accounting software.
The application is free but the underlying service is not; businesses that download the app need to create an Intuit GoPayment merchant account, which costs $20 per month and incurs a $60 setup fee. There's also a transaction fee.
System requirements call for an iPhone or iPod touch running iPhone OS 2.2.1 or later. QuickBooks integration requires QuickBooks 2009.