At a Glance
Expert's Rating
Pros
Automatic duplexing
Multiple connection options
Inexpensive ink-cost per page when using high capacity cartridges
Large format prints and scans
Cons
Paper jams and misfeeds were common
Paper trays were difficult to adjust
Prints on Brother's glossy photo paper were unattractive
Our Verdict
Brother's MFC-6890CDW is a large format ink-jet multifunction device targeted at small- and medium-sized businesses. You can print, scan, and fax over USB, wired Ethernet, or wirelessly over Wi-Fi. The MFC-6890CDW has a 50-sheet automatic document feeder for copying and scanning, memory card slots, a PictBridge USB port, and can automatically print two-sided, letter sized documents. Unfortunately, this large, feature-packed printer was only an average performer with some irritating problems.
Set up
Since the MFC-6890CDW can print and scan documents as large as 11-by-17 inches, it's big and bulky. There are two input trays; the top tray holds up to 100 sheets and the bottom tray can handle up to 250. Multiple trays make it easy to keep the printer loaded with paper or stocked with different types of paper, say plain paper in one tray and higher-quality presentation paper in the other. Loading paper into the flimsy paper trays was a bit of a struggle, however, with the cheap-feeling paper guides difficult to adjust.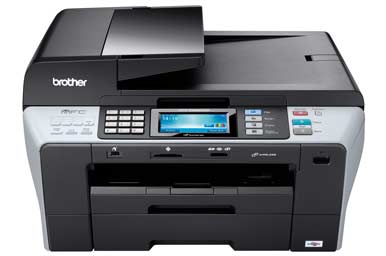 Once the trays were loaded, paper misfeeds were fairly common, with either the printer feeding multiple sheets at once, or reporting that the paper tray was empty even though it was just low. Adding more paper seemed to help, though multiple-sheet misfeeds still occurred occasionally.
Connecting directly to the printer over USB 2.0 was easy, as was connecting the printer to the office network via Ethernet. Wireless setup from the printer's onboard controls was a challenge, however. The MFC-6890CDW's built-in controls are less than intuitive and I was unable to successfully type in the password. I had better luck once I set up a smaller network using an AirPort base station not connected to the Internet and used the installation CD to go through the setup again.
The MCF-6890CDW can accommodate either high or standard capacity ink tanks. High capacity inks will yield, according to Brother's calculations, approximately 750 pages each for cyan, magenta and yellow and 900 pages for the high capacity black cartridge. The cost per page is about 3 cents for a monochrome page and 10 cents for color. When using the standard-capacity ink cartridges (450 pages for black and 325 pages for color), the cost per page increases to 5 cents for monochrome and 15 cents for color.
Performance
Photos printed on Brother's BP71 tabloid-sized glossy photo paper were overly dark and heavy with ink, especially when selecting that particular paper type in the printer's software driver. Using the BP17 paper with a plain paper setting in the drive produced better photographic prints, if a little under-saturated. Photos looked best when using a high quality, third party glossy photo paper, but the prints were still a bit dark and overly red.
Timed trials: Print
| | |
| --- | --- |
| Timed Trials: Print | |
| 10-page Word test | 2:22 |
| 1-page Word test | 0:21 |
| 22MB Photoshop image | 3:52 |
| 4-page PDF | 4:40 |
Scale = Minutes: Seconds
Jury tests: Print
| | |
| --- | --- |
| Graphics: Fine Lines and Gradients | Very Good |
| 22MB Photoshop image quality | Good |
| Text Quality | Very Good |
Scale = Superior, Very Good, Good, Fair, Poor
Timed trials: Scan
| | |
| --- | --- |
| 8-by-10-inch photo, 600 dpi scan | 0:40 |
| 4-by-6-inch photo, 1,200 dpi scan | 1:18 |
Scale = Minutes: Seconds
Jury tests: Scan
| | |
| --- | --- |
| Color | Good |
| Clarity | Very Good |
| Copy | Good |
Scale = Superior, Very Good, Good, Fair, Poor
Our text test page, printed on plain paper, was of Very Good quality for an ink-jet. Not quite laser sharp, but very legible even at small point sizes. The printer also did well with our Graphics and Fine Lines test page, with smooth bended lines, neutral grayscale photos, and relatively little banding in our color blends.
Our scanning test, which involves a color photo, were dark and overly blue, but not bad overall. A scan of our lineart resolution test page turned out better, showing a good amount of captured detail. Copies made from the printer menus were deemed to be of Good quality, with colors a little muted and images a bit soft. There were also visible horizontal lines in darker areas of the copy reminiscent of lower resolution ink-jets from years past. When scanning, I was able to initiate the scan from the device, "pushing" it to my Mac over USB, Ethernet, and wirelessly.
The MFC-6890CDW was a little slower than many of the ink-jet printers we've tested, and quite a bit slower than the small office color laser printers we've recently reviewed. Printing a one-page monochrome document took about 21 seconds, while a 10-page document took 2 minutes, 22 seconds. Printing our letter-sized Photoshop color photo took nearly 4 minutes. Scan times were faster, but they were only 24-bit color, not 48-bit as many photo-centric MFPs are capable of capturing.
Specifications
| | |
| --- | --- |
| Print resolution | 1,200 dpi |
| Scan resolution: Optical | 1,200 x 2,400 |
| Max. scanning bit depth | 24bit |
| Connection | USB, Wi-Fi, 10/100 Ethernet |
| Paper sizes | up to 11 x 17 |
| Cost to replace Ink | 82.50 high yield/$56 standard |
| Weight (in pounds) | 34.4 |
| Dimensions (height x depth x width in inches) | 12.7 x 21.3 x 19.2 |
| Paper capacity | 350 |
| Special features | duplex, 50 sheet auto document feeder, fax |
Macworld's buying advice
For those looking for a tabloid-sized multifunction printer, the MFC-6890CDW is a decent option. It has a ton of features and prints good quality office documents. Photos are not its strong suit, however, and its paper handling leaves something to be desired.
[James Galbraith is Macworld's lab director.]