Chances are, you've got an old shoebox of photos stuck in the back of a closet somewhere. So you probably realize how fun it is, every now and then, to pull out that old box and thumb through the random photos you've collected over the years. Biscuit Tin, a $1 app from Magnetic North Interactive, allows you to have a similar experience with your Flickr photostream on your iPhone or iPod touch.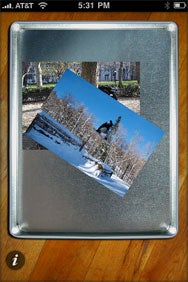 Biscuit Tin revolves around a very simple concept. The first time you launch the app, you link it with your Flickr account; after that, every time you open the app, you're presented with an empty tin that sits on your virtual table and gets filled with random photos from your photostream.
To add more photos, you simply shake your mobile device—a new photo appears and gets stacked on top of the others. You can slide the photos around and re-order them when they're in the tin as well.
While Biscuit Tin works as roughly as advertised, there are noticeable areas for improvement. My biggest complaint boils down to the quality of the photos that are shown within the tin. As with a real-life box of photos, the more photos you add to Biscuit Tin, the more the photos stored there get jumbled around. However, unless the image is kept perfectly straight, there is very noticeable pixilation along the edges. It may be a small point to some users, but I care a lot about the photos I put on Flickr, and I'm not a fan of anything that degrades their quality.
I also found Biscuit Tin's shake feature inconsistent. Sometimes shaking would add new photos immediately; other times, it took a few firm shakes to get any images added. When this is pretty much the only method of control in the app, it should work better.
Finally, the basic concept of Biscuit Tin relies on the app presenting a random selection of photos. However, during my testing, I found that the app tended to pull images from the same Flickr album, instead of a random selection from the whole stream. For an app that is based on the fun of seeing a random photo pop up, this killed a lot of the enjoyment.
Biscuit Tin is a neat concept, and a different take on viewing your Flickr stream. Overall the app is nicely designed, but it needs some improvements before it becomes a consistent and usable way to enjoy your photos.
Biscuit Tin is compatible with any iPhone or iPod touch running the iPhone 2.2 software update.
[ Beau Colburn lives in Boston where he has lots of old shoeboxes filled with photos.]