"I wonder," blogger Kevin Allman once mused, "when we're going to get real about the fact that 'citizen journalist' is just the pretty new construct for 'unpaid freelancer?'"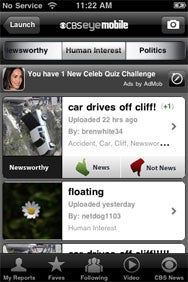 Good question. Surely the thought crossed the minds of the folks at CBS Interactive who dreamed up the CBS EyeMobile app for the iPhone and iPod touch—and then quickly departed. The free app encourages you to be a reporter, letting you upload images, video and words from your handheld. But if unpaid freelance work isn't your bag, the app also lets you browse others' reports and visit the official CBS News site.
Notably, the app lets users vote on what's newsworthy and what isn't. "We realize that not all uploads were 'newsworthy stories," the developers admit… er, explain on the App Store, "so we are letting you, our users, pick them." You can tap "news" or "not news." The reporters may be amateurs and jokers, but readers are still pretty astute.
CBS EyeMobile's interface is sharp and elegant—marred somewhat by the intrusion of ads at the top of the screen—and the app is easy to navigate. Horizontal scrolling bars at the top and bottom of the screen make for smooth browsing. The app also lets you save stories as "favorites," follow reporters, a la Twitter, and leave comments on stories.
But the app lacks a meaningful search function and does not break out local news. Instead, you can browse stories filtered by subject: newsworthy, human interest, politics, sports, and weather. Oddly, there is no section for traffic mishaps, which seem to rule CBS citizen-reporters' fascination.
Beyond the predominance of stories and pictures of cars on fire, cars run off the road, cars plunged down cliffs, and cars in other forms of distress, the defects of the citizen-journalist model are laid bare in CBS EyeMobile's politics section. Do you know what I didn't find under the politics header? Not a single report from a "citizen journalist" about the late unrest in Honduras or Iran. Admittedly, that's international news, and perhaps beyond the scope of the app. But I could find nothing about California's or New York's fiscal immolation, either; nary a peep about corruption in New Jersey; nothing posted recently related to local or state politics anywhere, from what I could tell.
The CBS EyeMobile app certainly gives users the tools for acting as "citizen-journalists" (or unpaid freelancers, if you like). But the results are less Edward R. Murrow and more like looky-loo traffic on the Interstate.
CBS EyeMobile is compatible with any iPhone or iPod touch running the iPhone 2.1 software update.
[Ben Boychuk is a columnist and freelance writer in Rialto, Calif. Feel free to e-mail him.]