Choice is great, but too many choices (and paying for them all) is a hard sell in a tough economy. Take your cable or satellite TV service, for example. Of the hundreds of channels offered, how many do you routinely watch? A dozen? Two? As money gets tighter, you may wonder if it's worth paying between $50 and $100 a month for this handful of channels, particularly when your Mac and the Internet provide you with attractive—and less expensive—alternatives. You can significantly cut down on the money you spend on television. Here's how:
Access free TV online
If you're looking for free network television content, Hulu.com and the free Hulu Desktop application are a good place to start. Hulu carries programming from NBC, Fox, FX, Disney, ABC, and Comedy Central. It offers both new and older programs, and provides some HD content. You're required to watch commercials, but they're short and appear far less frequently than they do on "real" TV. Hulu also has popular movie trailers and a few movies in its catalog.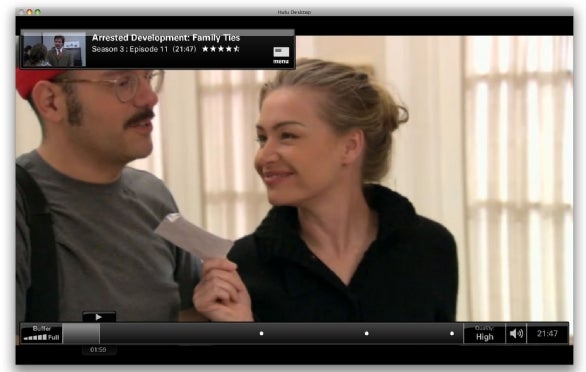 YouTube has recently added TV shows to its service. Though its catalog is nowhere near as extensive as Hulu's, you can still pick up on old shows such as the original Outer Limits and Star Trek, MythBusters,and Bewitched.
Hulu and YouTube aren't the only place to find network and cable programming. The networks also have their own sites with current and archive material. These include CBS, ABC, NBC, WB, CWTV, FX, and Comedy Central. If you're in the United Kingdom, you can watch the BBC via its iPlayer. Although the BBC blocks non-U.K. visitors based on their IP address, you can use a VPN service such as WiTopia to obtain a virtual UK IP address, which allows you access to this content. (WiTopia also works for U.K. users wishing to view U.S. content.)
The networks intend you to watch these programs within a Web browser on your computer, but you don't have to. Three free applications based on the open-source XBMC media center— XBMC, Plex, and Boxee—allow you to watch a variety of streamed programs from within these attractive and easily navigable applications. Plex and Boxee also give you access to Netflix's Watch Instantly content (Netflix subscription required). Although Netflix doesn't make its best offerings available via Watch Instantly, having access to this stuff for no additional charge beyond the price of your monthly subscription is quite a bargain.
Focus on your favorites
Free is best, but inexpensive isn't a bad runner-up. Suppose you're selective about your viewing and watch only four shows religiously—say, AMC's Breaking Bad , ABC's Lost , Showtime's Dexter , and Fox's House. Why not spend $121 to purchase the last season of each of these shows in standard definition from the iTunes Store? You'll get months of commercial-free entertainment for a fraction of the cost you'd pay for the cable or satellite subscription required to bring them to your home over the course of the television season.
Plus, your shows will be playable not only on your Mac, but also on a $229 Apple TV ( ) and an iPod or iPhone. Connect a Mac to a television and AV receiver (as I describe in "Revisiting the Mac mini media center"), and you've got a good start on finding an affordable replacement for your current TV service.
Senior Editor Christopher Breen (@BodyofBreen on Twitter) is the author of The Flip Mino Pocket Guide (Peachpit Press, 2009), The iPhone Pocket Guide, third edition, and The iPod and iTunes Pocket Guide, fourth edition (Peachpit Press, 2008).