A few years back, I reviewed the Mac version of iFlash, an outstanding study aid that lets you create onscreen flash cards and provides a number of effective quiz modes for studying them. The only problem with iFlash was that you needed your computer handy to study. But thanks to iFlash Touch, a companion app for the iPhone and iPod touch from Loopware, that's no longer the case.
Like the Mac version of iFlash, iFlash Touch supports flash-card decks (groups of related cards) and categories (smaller groups within a deck). For example, you can have a deck of cards for studying Spanish vocabulary; within that deck, you can have categories that correspond to chapters and topics in your Spanish textbook.
Similarly, iFlash Touch supports multi-sided cards—instead of being limited to the physical equivalent's front and back, each virtual card can have as many "sides" as necessary. Using the learning-Spanish example, each card could have one side for a Spanish word, another for the English equivalent, another for a pronunciation guide, and one more for the word used in a sentence. You could even add sides for different forms of the word; for example, verb conjugations.
However, because iFlash Touch is designed as a companion to the Mac version, you can't create or edit cards on the iPhone or iPod touch; you do that on your computer. (There are also thousands of pre-made decks available via the online iFlash Deck Library.) When it comes to creating decks, this isn't much of a drawback; the $15 iFlash for Mac is excellent and it would be a tedious task to create an entire deck of study cards on the phone. But it would be nice if you could add a card or two on the go, or make minor corrections or edits to existing cards without having to wait until you get back to your desk.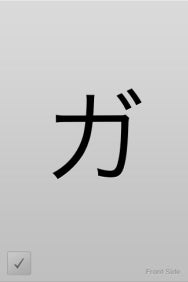 To get your study cards onto the iPhone or iPod touch, you first launch iFlash Touch; then you open iFlash on your Mac, choose the deck you want to transfer, and click on Export -> [iPhone or iPod touch name]. It takes only a second or two for the cards to be transferred, but I did come across one bug here: Each card deck has a unique identifier for syncing, and if you duplicate a deck in the Mac version—for example, to use one deck as a starting point for another—the copy keeps the original's ID. If you try syncing multiple decks with the same ID, only one will find its way to your iPhone. The developer will be fixing this issue in an upcoming update, but until then, you need to assign offending decks new IDs using the deck preferences in the Mac version.
Read more…
iFlash Touch's main screen shows all your decks; tap one to view all categories in that deck, along with an item for All Cards; tap a category (or All Cards) to begin studying. (You can also tap the arrow button next to an item to browse a list of all cards, displaying all sides in that set.) While studying, you swipe up or down to cycle through each card's "sides," or right or left to go to the next or previous card, respectively. You can even resize the text on cards using the iPhone's familiar pinch-zoom gestures.
As you study cards, you can "check off" the ones you've mastered. This checkmark comes in handy when you initiate your study session via the list-view screen—you can choose to study all cards or just those you haven't yet checked.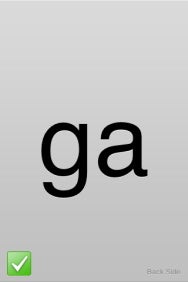 Via iFlash Touch's settings, you can choose whether to cycle through cards in sequential or random order. You can also choose which side of each card you want to view first—for example, the English or Spanish side of language flashcards—or to have the app choose the side randomly for each slide.
iFlash Touch is dead-simple to use and very effective for studying. Anyone who's used an iPhone for more than a few minutes will find the swipe-to-flip gestures to be intuitive and elegant. In this respect the iPhone version of iFlash is actually better than the Mac version for studying your cards.
On the other hand, the iPhone version is missing some of the unique study features of the desktop version. For example, images and audio clips added to cards on your Mac aren't transferred to the iPhone version of iFlash, nor are custom fonts and card formatting. And you don't get the desktop version's unique Interval and Score study methods. However, the developer says these features are all in the works for future updates.
But even with the current limitations, iFlash Touch is a great companion to the Mac version and an excellent study aid. If you're a student, or otherwise have a need for rote memorization, you'll want to check out iFlash.
iFlash Touch is compatible with any iPhone and iPod touch running the iPhone 2.2.1 software update.
[Senior editor Dan Frakes writes about low-cost Mac software in our Mac Gems blog.]