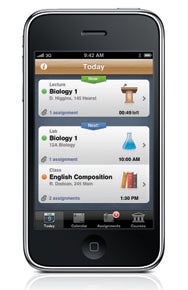 Going off to college can be scary, especially if it's your first time on your own. But you know what makes it less scary? Getting your own iPhone. So, kids, here are five great reasons you can use to convince your folks that the one thing you absolutely need when going off to college isn't a laundry bag or clean towels, but the most advanced smart phone on the face of the earth.
It'll make me smarter!
Explain to mom and dad exactly how an iPhone will benefit your GPA. Start out by showing them that the iPhone can help you from getting overwhelmed by your classes. The $3 iStudiez Pro by Andriy Kachalo and Michael Balashoff not only lets you input your class schedule, but also tracks when assignments are due so you'll never be late or fall behind again.
Any overachiever (or in-class napper) worth their salt knows that just listening in class and taking notes is for amateurs. The iPhone gives you a step up by allowing you to record lectures as audio, using the built-in Voice Memos app, or even as video, if you've got an iPhone 3GS. Then you'll have the entire class—verbatim—available to review at your leisure and before tests.
Read more…
Point out that it's easy to go that extra mile in your studies by pulling up supplemental information from the vast resources of the Internet. And not just from Wikipedia, either: the iTunes Store has an entire education section, iTunes U, which features podcasts and videos of classes from prestigious universities like Yale, Oxford, and MIT, on all sorts of subjects. Best of all, you can download those lectures directly to your iPhone via the iTunes application, all for no charge.
It'll make me healthier!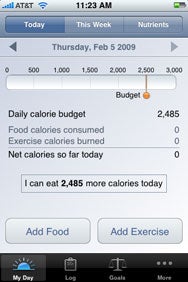 The dreaded freshman fifteen is the specter that haunts every incoming college student. All-you-can-eat dining halls? Vending machine lunches? Whatever's in those red plastic Solo cups? The iPhone can help you manage your newfound culinary freedom responsibly.
FitNow's free Lose It! tracks your daily calorie consumption. Set a weight goal and input your exercises and what you eat from the extensive internal database; Lose It! will tell you how far over or under your calorie budget you are, as well as keep track of your weight.
Regular exercise is a must if you want to stave off pounds from those late-night pizza study breaks. You can use the iPhone's Nike+ application in conjunction with the Nike+ iPod Sports Kit to log your running regimen and make sure that you're staying in shape; you can even keep track of all the calories you're burning walking back and forth to classes.
It'll make me thriftier!
College isn't just many kids' first experience with social independence—it's also often their first experience with financial independence. Some students get jobs, some rely on their parents, but regardless, they're often on a budget. In order to make sure you're not living beyond your means, explain to your parents that the iPhone helps keep you from overspending with an expense-tracking application like Pennies. And with a new iPhone 3G costing just $99, it practically pays for itself!
It'll keep me in touch!
If there's one thing the iPhone excels at, it's communication. E-mail, phone, text message, instant message, social networking sites—they're all there at your fingertips. Show your folks how easy it will be to stay in touch with you through any and all of those mediums, easing their separation anxiety (though you might skim over the simplicity of call-screening).
It'll make me safer!
It's a given that your parents will worry about you when you're off at college—well, at least when they're not thinking about remodeling your old room into a home gym or crafting workshop. Explain that the iPhone's features can help keep you safe: the GPS, for example, will help you keep from getting lost on those inevitable college road trips.
If you're willing to deploy the nuclear option—at your own risk—you can even tell your parents that they can track you using MobileMe's Find My iPhone feature. Hopefully they'll be too respectful to take you up on it, but they'll be touched that you offered.