Apparent has announced Doxie, a new document scanner that works with Macs and Windows PCs. It will cost $129 when it's released in November.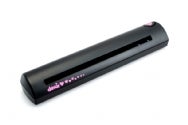 Powered by USB, Doxie is designed for portability. It's made by the same company that produces the IntelliScanner line of barcode scanners. It's clad in black and sports cheeky pink hearts and a pink logo.
Software is included for both Mac OS X 10.5 or later (10.6 suggested) and Windows. The software integrates Web support—Apparent said that the device will upload directly to Flickr, for example. More info and specific integration with other services hasn't been announced—Apparent is keeping a lid on some of the device's capabilities until closer to the release date.