At a Glance
Expert's Rating
Pros
Built-in optical viewfinder
Extensive manual controls
Excellent image quality
Cons
Questionable build quality
Lacks a true wide-angle lens
Our Verdict
As a fan of Canon's Digital Elph cameras, I was a bit disappointed by the current flagship model of the series, the 14.7-megapixel PowerShot SD990 IS. My disappointment lies mostly with the build quality of the PowerShot SD990 IS; it produces image quality that's among the best we've seen of cameras of a similar ilk.
I expect a camera priced at around $400 to feel solid. The PowerShot SD990 IS, which has a plastic body rather than the titanium casing of its predecessor (the PowerShot SD950 IS), feels a bit cheap. This, coupled with a handful of other shortcomings, chips into the camera's excellent performance.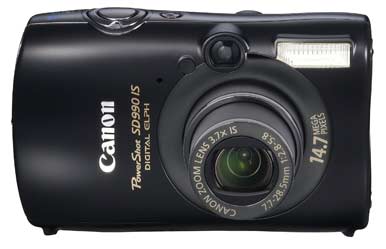 The image quality is indeed outstanding. The PowerShot SD990 IS netted an overall score of Superior in the our lab's jury evaluations, producing some of the best results for color accuracy, lack of distortion, and exposure quality we've ever seen in a point-and-shoot.
Jury tests
| | |
| --- | --- |
| Image Quality | Superior |
| Color Quality | Superior |
| Flash Quality | Good |
Scale = Superior, Very Good, Good, Fair, Poor
However, the plasticky build and some design choices hinder its overall score. Canon released the SD990 alongside the 10-megapixel PowerShot SD880 IS ( ), its less-expensive (and excellent) Digital Elph sibling. The PowerShot SD880 IS, though, feels as solid as a rock, despite the fact that it, too, has a plastic chassis.
The PowerShot SD990 IS has a control dial on the back of the camera, complementing the four-way navigation pad. The dial makes scrolling through menu options extremely fast, but, on the PowerShot SD990 IS, it jiggles enough to make it feel flimsy. What's more, that dial is suprisingly difficult to use, with its secondary function-switching between program mode and manual mode-unhandy at best. When I was dialing between modes, I often couldn't make it land on the one I wanted. On the SD880, I never had such problems with the control dial.
Another gripe I have with the PowerShot SD990 IS is the focal range: At 36mm to 133mm, the 3.7X optical zoom lens is not a true wide angle. When I compared it to the SD880's 28mm-to-112mm, 4X optical zoom, I started wondering why Canon skimped on the wide-angle with this more expensive model.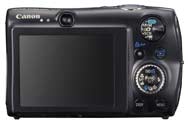 So what features make the PowerShot SD990 IS pricier than the PowerShot SD880 IS, other than the higher megapixel count? For starters, it has an optical viewfinder. It also has a wider set of manual controls, including aperture and shutter-speed settings, flash exposure compensation, and manual focus. In Quick Shot mode, the PowerShot SD990 IS continuously adjusts for exposure and focus (even when you remove your finger from the shutter button entirely), thus eliminating shutter lag almost completely. The PowerShot SD990 IS's optical image stabilization is also slightly more powerful than the PowerShot SD880 IS's. And it's available in black or silver.
Like the PowerShot SD880 IS, the PowerShot SD990 IS boasts Canon's Digic 4 image processor, which, along with increased speed, hosts a number of upgrades. These include Servo AF (continual focus adjustment for moving objects), "Intelligent Contrast" (which increases dynamic range), and a fun face-detection timer. About the timer: You set up the camera, hit the shutter button, and, as soon as the camera detects an additional face in the frame (that is, once you jump into the scene), it starts a two-second countdown before snapping three photos. And enough time elapses between shots to change positions, making this feature possibly even more fun than a photo booth. Compared to the "smile detection" functions used by its competitors, the face-detect timer wins hands down.
When connected to a Mac via USB, the PowerShot SD990 IS's SD card appears on the desktop, and you can import the photos into iPhoto.
Specifications
| | |
| --- | --- |
| Resolution (in megapixels) | 14.7 |
| Optical zoom/focal length (35mm equivalent) | 3.7x/36mm-133mm |
| Battery type | Rechargeable lithium-ion |
| Media Slots | 1 (SD card) |
| Size (width x height x depth, in inches) | 3.8 x 2.5 x 1.1 |
| Weight (in ounces) | 5.7 |
Macworld's buying advice
Despite the improvements on its predecessor, I can't help but feel that Canon dropped the ball a bit with the PowerShot SD990 IS. Unless you simply can't live without an optical viewfinder or extensive manual controls, I see little reason to spend the extra bucks on the PowerShot SD990 IS. I'd go for the $299 PowerShot SD880 IS.
[Danny Palmerlee is a freelance writer and photographer.]
Note: When you purchase something after clicking links in our articles, we may earn a small commission. Read our affiliate link policy for more details.