StarCraft II: Wings of Liberty won't be winging its way to a PC or Mac on schedule. Blizzard Entertainment announced that the eagerly-anticipated game won't meet its 2009 release date; instead, Blizzard is pushing back the launch until after the new year.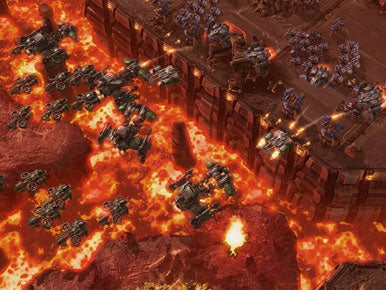 First promised two years ago, StarCraft II is a sequel to the ground-breaking real-time-strategy game set in space. The game was easily one of most anticipated releases of 2009; now, there's no firm release date from Blizzard, other than a first-half of 2010 target.
The reason for the delay? A longer-than-expected development time for upgrading Blizzard's Battle.net online multiplayer service, according to the company. Battle.net first launched with the Blizzard title Diablo in 1997 and revolutionized online gaming by providing an in-game multiplayer service that contrasted with external online multiplayer services at the time. Battle.net has since become an extremely popular method for playing online and an integral part of the Blizzard gaming experience.
With the news in June that Blizzard had opted to not ship StarCraft II with LAN support, the delay caps a rather tumultuous two months for the game maker. As reported by Joystiq, Blizzard's Bob Colayco had already suggested that Blizzard killed off LAN in order to move players to an upgraded Battle.net, which he called "the best option to ensure a quality multiplayer experience with StarCraft II and safeguard against piracy."
By making Battle.net the only show in town, the pressure on the service to deliver a compelling and new experience has only mounted. Colayco already said that Battle.net will offer new features like "advanced communication options, achievements, stat-tracking, and more." These new features are seemingly taking more time to upgrade than they had previously anticipated, and fans of the series will have to wait a bit longer for what now looks to be the most anticipated gaming title of 2010.