Zenonia recalls the good old days of the classic 16-bit role-playing game. Listed on sale for $3 as of this writing, Gamevil's offering is a marathon adventure in character development, questing, and monster slaying for the iPhone or iPod touch. Zenonia has few rivals when it comes to depth, with more than 40 hours of gameplay, hundreds of unique items per character, tons of quests, a complex story line, and weapon upgrades.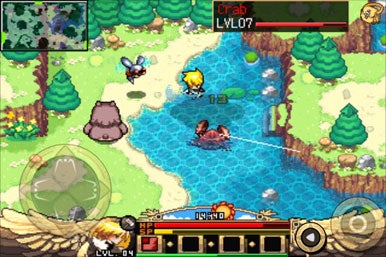 Zenonia follows a story that's somewhat typical to the RPG genre; nevertheless, it adds to the game experience. You play a young boy who is caught up in a battle between good and evil while trying to unravel the mystery of your father's death. The decisions you make directly affect your alignment as well as outcomes in the game, further adding to the replay value. You encounter lots of non-player characters who reveal pieces of the backstory and offer quests for you to complete.
You've got a choice of three classes to play as—Paladin, Assassin or Warrior. Each offers their own distinct characteristics. As you level up, you get points to spend on various skills, and you can either build a very balanced character by spreading these points around or a more specialized one by loading up just a few skills. Either way, the skill tree system allows you to tailor your character to match your playing style.
Characters can develop eight active skills, eight passive skills and one ultimate skill. Abilities can be assigned to a hot button bar at the bottom of the screen for fast access in battle. Also, as you gain levels, you get points to boost up your attributes (like agility, strength, and so forth), allowing for further character customization.
Zenonia sports a virtual D-Pad and an action button for the controls. Both worked well when I tested the game. Unfortunately, Zenonia offers basically no touch controls—everything is done with the D-Pad, including navigating menus. This is certainly not the best way to handle menu navigation and feels clunky at best.
Your movement is restricted to left/right and up/down without the ability to move diagonally. Thankfully, tapping the attack button causes you to automatically face your enemy.
Combat in Zenonia is in real time, and you attack monsters with weapons or magic by hitting the appropriate buttons. Real-time combat really adds an element of action to RPGs, so I'm glad Gamevil took this approach with Zenonia.
Zenonia offers vast amounts of different items and gear, from armor and weapons to potions and magic items. Aside from just improving base stats, these items can also affect your resistance to magic, fire, and more. You can also combine items to create new, more powerful ones.
Each item features inert stats like weight and durability and degrade over time, requiring repairs. You also need to find food for your character. Some players may find that equipment upkeep and food requirements add to the realism of a game; honestly, I've never cared for it as it often means traveling back to town for supplies or repairs instead of battling or questing. Thankfully, a recent update addresses this issue by reducing the amount of upkeeps and food consumption.
Zenonia has great looking anime-style graphics reminiscent of old school 16-bit RPGs. There are some pretty cool combat animations for attacks and spells as well as good sound effects. The music in Zenonia isn't bad either, though it can get a little repetitive.
If you're a hard-core RPG fan, Zenonia is a must-have. More casual gamers who prefer to play in short bursts may find the depth of Zenonia to be a little much. (Still unsure? A free lite version of Zenonia came out a couple weeks ago that, while limited, can give you a taste of the game.) Either way, Zenonia shows us what a classic style RPG for the iPhone should be—it's exactly what fans of the genre have been waiting for.
Zenonia is compatible with any iPhone or iPod touch running the iPhone 2.x software update.
[Tim Mercer is a technology enthusiast, graphic designer, and blogger, whose blog, digital-artist-toolbox.com, offers free resources to the digital artist and graphic designer.]