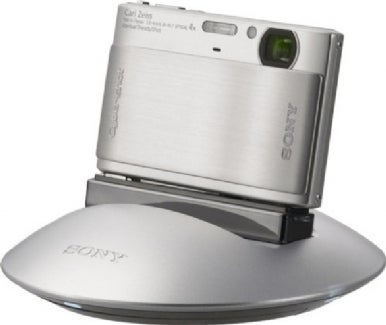 Auto focus, auto flash, scene selection and even smile detection. Today's cameras have automated just about everything involved in snapping a picture but still require someone to point them. Not any longer. Sony has developed a base unit for cameras that swivels them around through 360 degrees and tilts them up and down to follow people in a room and, when the time is right, snap a picture.
The device, called Party-shot, runs on a pair of AA batteries and is compatible with two new digital cameras that Sony will begin selling in September. The dome-shaped device includes some motors but all of the tracking is done by the digital camera.
Aiming is done by facial recognition software that works off the image coming through the camera's lens. The camera monitors the image and scans for faces and, when it finds one, sends instructions to the base so that it can continue to track someone who might otherwise go out of the frame.
It then judges when the composition or pose is right and snaps a picture.
In a recent demonstration the camera coped quite easily with tracking a small number of people close by although sometimes got confused when a greater number of people were in range or people were further away. The automatically snapped pictures were a mixture of good, funny and bad. Owners probably wouldn't want to keep all of the photos but during the limited demonstration it did snap some that would probably be worth keeping.
The Party-shot will go on sale in September and cost around $150. It will launch simultaneously with one of two cameras that can be used with it.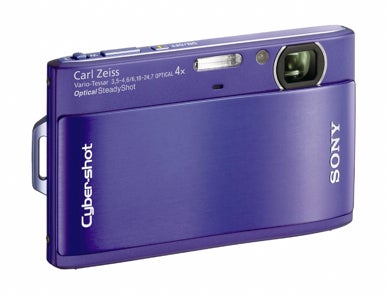 The Cyber-shot TX1 is a stylish and slim model at 14 millimeters thick and comes with 4X optical zoom and a 3-inch touchpanel screen. The second camera, the Cyber-shot WX1, has a conventional 2.7-inch display and 5X optical zoom.
Both cameras use Sony's 10-megapixel "Exmor R" image sensor, which has better sensitivity then previous sensors so works better in low-light conditions. With the new sensor the cameras can manage 10 full-frame pictures per second so you can burst shoot a short scene.
They also have Sony's "Sweep Panorama" feature that allows for super-wide panorama shots. The camera takes up to 100 pictures as the user swings it from one side of the panorama to another and automatically matches and stiches the images together so the result is a very wide picture.
The TX1 will launch in September for $380. The WX1 will go on sale in October for $350.