At a Glance
Expert's Rating
Our Verdict
One of my favorite OS X add-ons is FinderPop, in part because of its menu-bar menu that provides quick access to my favorite files and folders. But if this is the only one of FinderPop's many features you need, a suitable alternative is Devon Technologies' XMenu. I wrote a one-paragraph review of XMenu back in 2005, but the program is worth revisiting: since that time, it's been updated for Intel Macs, gained some impressive speed boosts, and added some useful features.
XMenu lets you add one or more menus to the menu bar for browsing files and data. The available menus are Applications (for the main Applications folder), Developer (for the /Developer folder, if you've installed Apple's developer tools), Home (for your home directory), Documents (for your personal Documents folder), User-Defined, and Snippets. User-Defined is a custom menu you create by dropping files, folders, and aliases into ~/Library/Application Support/XMenu.

The new Snippets menu is for frequently used text files, rich-text files, text clippings, and Internet Location files. Place these items in ~/Library/Application Support/XSnippets, and when you want to use one, you just choose it from the Snippets menu; XMenu inserts the item's contents into the current document or text field.
You can choose to view any combination of these menus. Each menu has a unique icon to help you distinguish it from the others, though you can instead choose to view the menus by their (editable) names—or by both name and icon. You can also choose how the contents of these menus are displayed: in small or large text, or as small or large icons with text. (You can dramatically increase XMenu's performance by enabling the option to use generic icons.)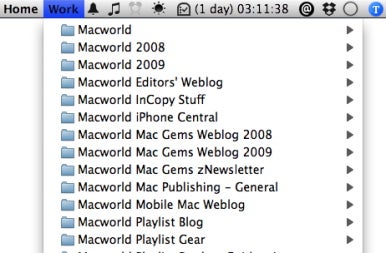 The XMenu documentation claims you can perform different actions on menu items by using modifier keys; for example, control-choosing an item in a menu is supposed to show the item instead of opening it, and command-choosing an item is supposed to open the Finder's Info window for that item. However, I couldn't get these features to work on two different Macs. Luckily, I rarely wanted to use them; I mainly used XMenu to open frequently-used files and folders.
A couple features I miss from FinderPop are ways to organize the custom menu without having to fool around with spaces and special characters, and the capability to add dividing lines between groups of items. Another feature I'd like to see is the capability to create multiple custom menus, as well as to designate any folder—for example, the Desktop or a project folder—as a new menu.
Of course, FinderPop has many other features not found in XMenu. But FinderPop also injects its code into every running application, whereas XMenu doesn't touch other programs, so it shouldn't affect the stability of the OS or applications. It's a simpler solution for those who don't need much more than a few quick-access menus.
Want to stay up to date with the latest Gems? Sign up for the Mac Gems newsletter for a weekly e-mail summary of Gems reviews sent directly to your Inbox.