You've spent a lot of money on digital cameras, lenses, lights, memory cards, instruction books, and classes. Isn't it time your photography hobby repaid the favor? The online photo community is filled with amateur competitions that award prizes for the most creative and crowd pleasing images. Here are five competitions for a range of styles and skill levels. Each site has a distinct personality and it shows in their winning images—some like it hip and artistic, while others prefer classic, straight shots. All of these contests are all free to enter, but most require some type of registration to help cut down on vote fraud.
For all online contests, it's important to read the fine print, especially when it comes to copyrights and obscure rules that could disqualify your photo (having a brand name appear in your image, for example). Most legitimate photo contests allow you to retain all rights to your images, but they can still use them for promotional purposes.
JPG Magazine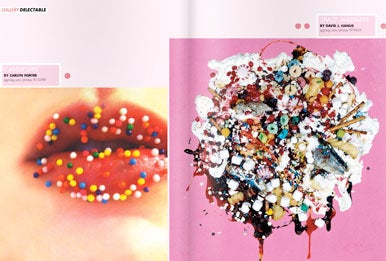 Started in 2005, JPG is a slick online community and bi-monthly print publication for amateur photographers. The JPG Website has a rotating pool of themed groups where members submit and comment on photos. Currently there are 46 open themes covering all kinds of broad topics, from the depressing ("Loneliness") to the clever ("Prank"). The rules are simple: you must be a registered user to submit images (signing up is free), your images should be relatively un-retouched and at least 2200-pixels wide, and you can only submit one photo per theme. For each upcoming print issue, JPGmag.com picks a handful of these themes and turns them into competitions that are voted on by the JPG community. The top vote-getters are then whittled down for publication by JPG editors who assemble them into a stunning, full-size glossy magazine. Current open theme contests for the 22nd issue include "Color Theory," "The World of Tomorrow," and "Gender Roles." Users retain all rights to their images but JPG can use them as they wish online, in the magazine, and in any promotions for the company.
The Prizes: Getting published! There are no fancy cash prizes or free goods in these contests. For most photographers, seeing their image in print and on a newsstand is an impressive reward on its own.
Canon's Photography in the Parks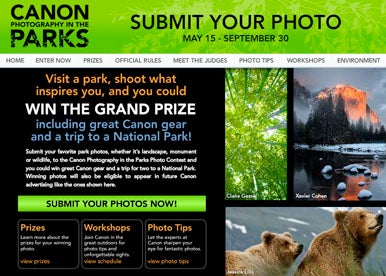 Instead of just staring longingly at that sunrise B&W shot you took at Shenandoah, remembering life outside the cubicle, try using it to score a follow-up trip. The big camera and equipment manufacturers regularly host photo contests and give away cash, trips, and their own goods as prizes. One great end-of-summer challenge is Canon's "Photography in the Parks" contest which invites non-professionals to submit an image of any US park or national monument. Each person can submit up to 10 photos, so include a variety. The competition is split into two groups, teens and adults, with 10 winners being picked from each. A panel of judges will choose the top 20 finalists and post them online for public voting. Photos cannot depict any people, and while a reasonable amount of post-production tweaking is allowed, any excessively Photoshopped image will be disqualified. Photography in the Park is accepting new entries until September 30th. While you do keep all rights to your image, there's a hefty bit of small print you might want to review before uploading.
The Prizes: The grand prize is a doozy—a week-long vacation for two to a national park, and Canon equipment worth $4,400, including an EOS 5D Mark II. First, second, and third prize winners will all take home a few thousand dollars worth of cameras, accessories and printers, and a PowerShot G10 will go to honorable mention winners.
SoaPhoto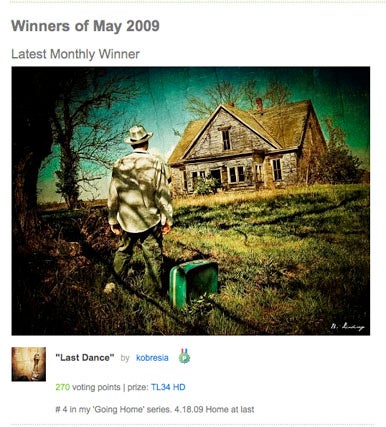 Every month online portfolio site SoaPhoto has a contest for both their paid and free members. Winners are chosen by number of votes received from the community, with each person limited to one vote per photo. What's different about SoaPhoto is that there are no themes here, just four constant categories: animals, people, nature/landscape, and object/details/macro. The specific content of your image can be anything, as long as it's tasteful. All of your submitted images must contain real, unmodified EXIF data. Unfortunately, you can only win two contests a year. Members can leave comments and, like most of these communities, the atmosphere is extrememly positive and helpful.
The Prizes: A rotating cast of Samsung digital cameras.
Popular Photography Magazine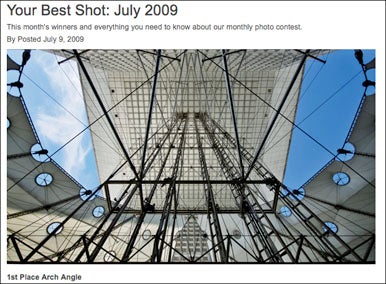 Most of the big photography magazines hold regular contests for readers, and many hand out prizes and print winning images. Popular Photography—which goes by the hipper moniker "Pop Photo" online—runs multiple themed contests in addition to regular monthly competitions. Some of their contests cost money to enter and are aimed at professional photographers, like the Images of the Year contest. For the rest of us there's the monthly "Your Best Shot" contest online. To enter, you email an image 1MB or under to YourBestShot@bonniercorp.com, up to 5 images per month. If an image is chosen, you'll be asked to send in a larger version that's at least 9MB. Winning phtos, which are chosen by Popular Photography editors, are featured on the website and printed in the next issue of the magazine.
The Prizes: If your photo is selected for first place you will receive $300; $200 for second; $100 for third; and $50 for honorable mentions.
(Another magazine with good, regular contests is Digital Photo Magazine. Currently they're giving away prizes like a DSLR camera and $1,500.)
Thirsty Photo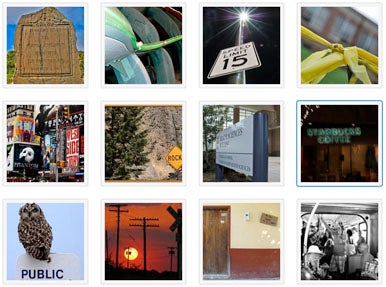 Putting your images out there for the world to see and judge is a daunting prospect. Photo contest upstart Thirsty Photo is great place for first timers to get their feet wet and get over any crippling fear of public embarrassment. The community is very polite and helpful, the contests are vehemently amateur only, the small print is minimal, and the prizes tend to be useful photography software. This month the theme is "Signs" and the photos that have rolled in so far show how diversely creative photographers can interpret the same subject. The current contest ends August 23rd. With ThirstyPhoto, there's no need to create another new membership account, you can submit directly through your Facebook account. Winners are picked by a rotating cast of professional photographers, many of whom also offer helpful tips and tutorials in the Thirsty Photo blog.
The Prizes: This month it's a free copy of Adobe Lightroom 2.