What if you were in a completely new city and needed to meet people that shared your passions? What if you were at a trade show and needed to find people in your similar line of work? What if you wanted to see these people immediately?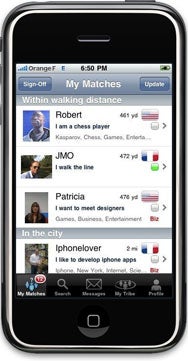 HiMyTribe will let you do all that, and more. Unveiled Friday by French social networking developer Never Alone Anymore after its arrival on the App Store, HiMyTribe is a utility tool and business application that allows you to find nearby people who share your interests. Think of it as a cross between Craigslist and Google Maps with some Facebook thrown in for good measure. HiMyTribe offers a search engine for people with mutual interests and allows you to connect with them courtesy of the iPhone's GPS features.
Here's how it works: Users create "tribes" or groups of people with similar interests that they want to stay in contact with. Say you've just moved to a new city and want to find fellow jazz lovers—you can create a profile and do a quick search of other HiMyTribe users in your town that fit your criteria. You can invite them to join your tribe, and if they accept, you can find their location via GPS.
The concept sounds similar to Loopt, a social networking app for the iPhone where you link up with friends and contacts by sharing location information. In HiMyTribe's case, though, the focus is more on networking with business contacts rather than pinpointing the location of current friends or businesses.
"The benefit of HiMyTribe is that it enables individuals to network with business colleagues and potential associates all while on-the-go, anytime, anywhere," said Jean-Marc Orselli, CEO of Never Alone Anymore.
To help find these potential associates, HiMyTribe has built a search engine with different criteria to browse, including more than 130 careers in the business sector. Additionally, members can choose to find vendors or people that are interested in buying or selling products—effectively creating a business market in the HiMyTribe community.
Once you've created a tribe, HiMyTribe performs much like a social networking application would. You can create a profile with your picture, interests, relationship status, nationality, and other data. To organize your tribe, you create different tribes and divide your members into business contacts, family members, friends, and so forth. If you already have friends with the application, it's a simple matter of searching for their user ID and then inviting them to join your tribe. After creating your tribe, you can also keep tribe members updated on your life with messages and a personalized news feed.
If you want to see which tribe members are near you, looking at the app's integrated GPS map will allow you to see within a few meters where your contacts are located. And while HiMyTribe is a great meet-up tool, the developers also recognize the importance of privacy. To maintain security, a user's exact location cannot be determined—only an approximation. Each person who has HiMyTribe has plenty of privacy controls at their fingertips, so if they don't want to reveal their position, for example, they can decline to be tracked. The user also has the option to blacklist certain contacts so they can't see their profile or locate them.
"By leveraging the power of mobile social computing and the iPhone, we wanted to create a truly useful application that achieves what no other location based people finder application has done before," Orselli said.
Initially, the free application will let the user to have 20 tribe members. A paid application is in the works as well. HiMyTribe runs on the iPhone 3.0 OS software update.