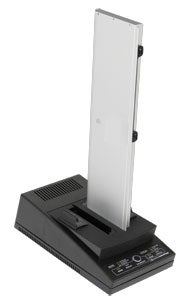 NewerTech has announced the $150 Intelligent Battery Charging Station, a device designed to charge and condition the batteries used by 13-inch and 15-inch "unibody" MacBooks and MacBook Pros.
The device features two bays—one bay charges while the other charges and conditions. The company claims that by conditioning the battery, you can get longer runtimes and better lifetimes from your laptop batteries.—Peter Cohen
Virtual TimeClock gets basic edition
Virtual TimeClock '09 is time clock software for Mac-based businesses. The Basic Edition, introduced Thursday by developer Redcort Software, is an entry-level version of the software designed with a simplified feature set and low price—$79, compared to $195 for the Pro Edition and $295 for the Network Edition.
The Basic Edition works on a single computer and supports up to three employees. As your business grows, you can upgrade to the Pro or Network Editions, according to the developer. System requirements call for a 1GHz or faster processor, 40MB hard disk space, 32MB RAM.—PC
After Effects plugin Serpentine creates 'animated noodles'
3D Serpentine is a new plug-in for Adobe After Effects from Zaxwerks. It creates "animated noodles" (more technically known as 3D path-extrusions) without having to use an external 3D application. It costs $199, and works on After Effects 7 or later.
3D Serpentine uses standard AE paths to control the position, orientation and size of the "noodles." You can animate the length and location of the noodle along the path to create effects like shooting stars, movie film unwinding from a spool, swashes and more. The plug-in includes basic cross-section shapes, support for alpha channels, end cap controls and more.—PC