You have to feel bad for Pac-Man. While the other gaming legends have gotten updated games and impressive facelifts to match the times, Pac-Man's best days were when you popped in coins to guide him (or later, his special lady) across a black screen while being pursued by brightly-colored ghosts. Mario has moved on to galactic domination. Zelda is only getting better looking with age. Even Donkey Kong got a family and settled down. Clearly, something needs to be done about Pac-Man.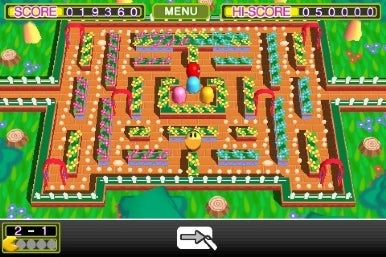 So Namco has finally given Pac-Man the "remix" treatment on the iPhone. And the old boy is looking much better: Now he has 3-D graphics, an entire island full of rich, interactive environments and some new abilities and powerups to aid him in his quest to eat all the pac-dots.
For new fans to the series, the premise is simple: You guide Pac-Man through the maze to eat all the little dots you see strewn throughout the level. You want to avoid the colored ghosts (known in America by their nicknames Blinky, Pinky, Inky and Clyde) until you eat a big pac-dot that will turn them blue and make them edible. The object of the game is to clear all the pac-dots to move onto the next level. The player gains points for eating ghosts or sporadically appearing pieces of fruit; there are only a certain number of big pac-dots per level, so knowing when to use them against the ghosts is a key element of Pac-Man strategy.
But as the title implies, this a "remix" of Pac-Man, and includes a great deal of new content. After clearing several levels, the player will be confronted by a monstrously-sized ghost as a boss they must defeat. These are often more difficult than normal levels and feature the essential use of power-ups in order to survive. Some of these power-ups are more useful than others, with the wing one being particularly frustrating to use.
Read more…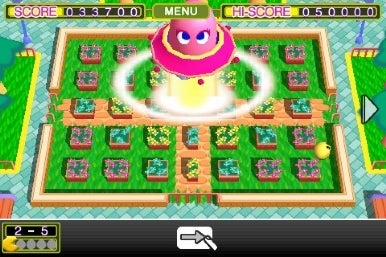 The game's levels are divided up as parts of an island, with each part of the island having a specific theme. Pac-Man will journey through industrial mazes with elevators and teleport devices, undersea levels with opening and closing doors, and spooky castle levels with super-powered ghosts. Pac-Man will also gain access to new power-ups like wings, boots, speed spots, and a doppelganger form that will gather dots for you on the other side of the level. These new obstacles and abilities offer new strategies for players and a greater level of depth to the old Pac-Man formula.
But all this new content can be overwhelming at times. For a tiny screen, there's an awful lot going on. Keeping track of the pac-dots, speed spots, ghosts, multi-colored teleport spaces, elevators and thematic walls can be a bit overwhelming. Pac-Man is known for its simplicity, and while I applaud Namco's attempts to provide depth to the game, the "throw as much at the wall and see what sticks" approach to innovation doesn't really work.
The controls are also disappointing. The player has two ways to control Pac-Man: by flicking a finger across the touchscreen surface or by creating a joystick configuration on the touchscreen. Neither is particularly intuitive, as touching the screen will often hide Pac-Man and reduce visibility and the joystick is in a clunky "T" pattern rather than a traditional "cross" pattern, leading to a high likelihood you'll accidentally hit "down" when you want to turn "left" or "right." Dozens of other games can configure a proper set of controls on the iPhone, so its surprising Namco dropped the smiling-yellow-faced ball here.
To old fans, a new Pac-Man with 3-D graphics and new maze obstacles is blasphemous. Like New Coke or the Matrix sequels, it's simply not going to compare to the original. (Which, by the way, is also available for the iPhone. It was one of Namco's first offerings for the platform.) For fans with an open mind, however, you'll enjoy the varied environments, challenging bosses, and catchy soundtrack. The controls really hold back this title from being as much fun as it should be, but if you enjoy the quick-reflexes strategy of exploring mazes, Pac-Man Remix is worth your $6.
Pac-Man Remix is compatible with any iPhone or iPod touch running the iPhone 2.2.1 software update.
[Chris Holt is an assistant editor at Macworld.]