At a Glance
Expert's Rating
Pros
Specific tools and support for video producers
Comprehensive information tracking capabilities
Streamlines paperwork
Cons
Not multi-user friendly
Poky performance
Dated and scattered interface
Complicated
Our Verdict
If you've ever been intimately involved in a professional film or video shoot, you know how ridiculously complicated the logistics can get. Figuring out who is supposed to be where and when, and with how much of what, and how much they've been paid so far, can get pretty complicated. Enter Jungle Software's Gorilla 4.5.5 (Pro Edition) to sort through this mess.
Gorilla is a deep and comprehensive set of tools designed to help you plan and execute the logistics of a video or film shoot. It's targeted to independent productions from student projects to million-dollar features, as well as commercial and corporate video projects. There are several flavors of the app at different price points that are tailored to different types of users. But all of the variations do the same thing. Gorilla lets you enter, store, sort, and use all the relevant information needed for a production such as budgets, schedules, crew, cast, editing notes, and even profit-sharing and film festival submissions. The software helps you with script breakdowns, shooting schedules, storyboard organization, and even figure out if you're on budget (or, shudder, not).
The program will assist you, but doesn't do your work for you. You still have to know what you're doing in terms of the plethora of details that make for a smooth and efficient production. But if you are familiar with all of the moving parts, Gorilla will help you organize them and streamline a lot of the grunt work.
Gorilla is broken down into four main modules: Scheduling, Budgeting, Post/Distribution, and Project Management. Each of those has sub-module tabs that, unfortunately make it easy to get lost within the program.
Four main modules
Scheduling You start by importing a script from either Final Draft ( ) or Movie Magic Screenwriter ( ). If the script is properly formatted, Gorilla can extract scenes, locations, and cast members to get you started. You can then enter additional information such as the rates, availability, representation, and so on for crew, actors, locations, equipment, and more. You can create scene breakdowns to give you an idea of who and what is needed for each scene. After that, you're ready to do things like establish your shooting days, and from that point Gorilla can automate the tasks of generating call sheets, calendars, and other necessary routine paperwork.
Budgeting The Budgeting module not only has the tools to lay out an estimated budget, but can also handle the actual shooting budget as you go—if you can keep the Accounting module's information up to date through production. It also has tools to help project and track the profitability of a film project using industry standard profit sharing models.
Post/Distribution This module includes tools to match up scenes from the script with the actual footage shot (or small video proxies thereof) so you can make sure coverage is complete and have an idea of how complete the project is so far. There are fields aplenty to fill in, but if they're properly formatted, you can import text files from Apple's Final Cut Pro ( ), or Microsoft Word ( ) or Excel ( ).
This module also includes information on 1,200 film festivals, including entry deadlines and contact information, and can track the status of your entries and any responses for each—again, a huge logistical boon.
Project Management This section is fairly straightforward, and lets you do some basic overall project management: you can use it to track which project is active, who the writers are, the synopsis of a pitch, and so forth. Gorilla is also a good tool for the 10,000-foot view of what is going on among multiple projects in creative shops.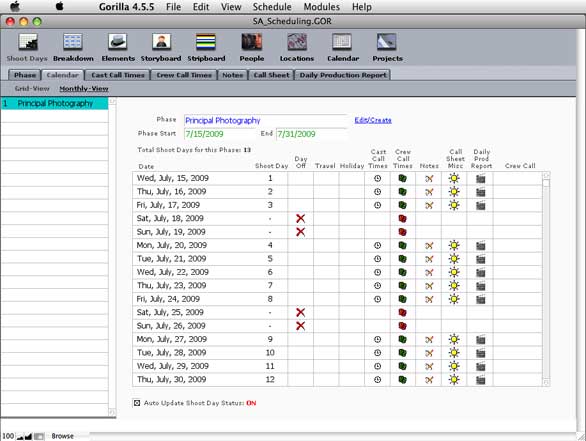 Based on Filemaker
Gorilla is based on a runtime version of FileMaker Pro 6, circa 2002. As such, it is a bit poky on modern Macs—especially when switching modules. This legacy also manifests itself in some user interface display glitches throughout the program. Regrettably, Gorilla is not networkable or multi-user friendly—only one user at a time can work on the budget or the schedule files.
Licensing costs, however, are reasonable and vary from $199 for the student version (maximum 14 shooting days, $50,000 budget) to $549 for the multi-user Producer Pack (unlimited shooting days and budget).
Phone support was excellent, and support is also available online via email and online forums and FAQs.
There are two other product offerings I'm aware of in this genre that do this kind of production budgeting and scheduling. Movie Magic's EP Budgeting and EP Scheduling cost around $800 for the pair, and the Web-based Scenechronize starts at $50/month and goes up from there depending on your production budget and union status.
Macworld's buying advice
Considering the complexity of trying to keep track of this much information manually, the high cost of film production compared to the cost of the software, Gorilla 4.5.5 (Pro Edition) is a no brainer.For small independent production companies with one person handling budgets and perhaps another handling scheduling, if you don't already have a very tight, elegant solution in place for tracking these kinds of things, buy yourself a this package. You'll be glad you did, but don't expect it to solve all your problems. If you need multiple people accessing the same module simultaneously, or need access via the Web, consider other possibilities.
[Mike Curtis has been pushing pixels for a living for two decades, and presently consults on post production issues in Santa Monica, California. He writes for Macworld, his own HDforIndies, as well as ProVideo Coalition.]