At a Glance
Expert's Rating
Pros
Powerful
Clients available for most popular platforms
Searchable text
Quick
Excellent iPhone client
Cons
Web clippers are limited
Desktop client missing audio and video notes
Our Verdict
Evernote 1.4.7 helps you capture the disparate bits of information that cross your path everyday, letting you manage that information in ways that are meaningful and useful to you. While Evernote is similar to both VoodooPad Pro and ShoveBox, it is also quite different than either of these programs in how it allows you to access, find, and filter your information. Evernote is designed for universal 24-7 access—you can use it on your desktop, online, or via your phone to keep your files synced and up to date in all locations, and offers more than either MobileMe ( ) or DropBox in that it allows you to upload content from your iPhone or iPod touch.
To use Evernote, you first need to create an account at evernote.com and that account makes it possible to sync your data across multiple devices. There are two account options; free or premium, which costs either $5 a month or $45 per year. Free accounts give you the majority of Evernote's features with some limitations. For example, the free account allows you to upload only 40MB of data in any 30-day period, limits the types of files you can upload to Evernote to PDFs, images, and audio clips. Plus, any Evernote client you use will display ads. With Evernote Premium you can upload 500MB per month of any file type, with a single file limit of 25MB, plus SSL encryption, and the option to edit files via Evernote's Web portal, all ad-free. While I used the Premium version for the purposes of this review, I've also used the free version and have never found the limitations to be that inconvenient.
Data in
Getting data into Evernote is simple and the options for managing that data are legion. There are Web, Mac, Windows, iPhone, Palm Pre, Windows Mobile, and Blackberry clients as well as "web-clippers" for grabbing Web pages. There's even a way to use Twitter to send your tweets to Evernote. So it's quite possible to use Evernote on nearly any device you have.
Using the Mac desktop client, it's possible to create text notes from within the program or to take photo grabs using your iSight camera, but I found it odd that I could only grab stills and couldn't create audio while using the desktop application. That's despite the fact that it is possible to upload video or audio you may already have on your Mac.
Multimedia dilemma
What's even more odd is that one of the Evernote iPhone app's key features is capturing audio notes. But, while you can't capture audio or video using your iSight or built-in mic, you can drag any audio, video, image, or document to the Evernote icon in the Dock. Alternatively, you can copy anything and paste it into Evernote using the program's menu bar icon. I also found the Web clipping features in Evernote to be extremely limited, especially when compared to programs such as ShoveBox ( ) and VoodooPad Pro ( ). While both of those programs enable you to capture fully formatted Web pages, Evernote captures only the text and images on a Web page but doesn't maintain its CSS formatting, something that ShoveBox is able to do using Web archives. The company states that while Evernote does capture the raw HTML, it does not want the program to capture Web archives and CSS for security reasons.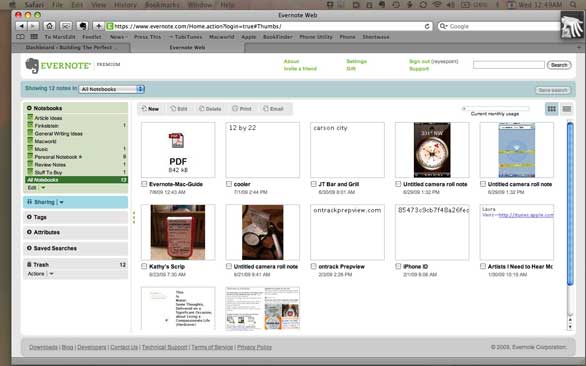 The Evernote iPhone app lets you capture four different types of notes. You can enter text notes, capture images using your iPhone's camera or by selecting photos from your phone's camera roll (as of this writing it wasn't possible to capture video with video- capable iPhones), or you can record audio notes. Anything you capture is uploaded almost instantly to evernote.com. There is a small caveat here: while this worked great using a Wi Fi or the 3G network, I found Edge network syncs to be painfully slow. These notes eventually got uploaded, but it seemed to take forever. Overall though, I found the iPhone app to be quite capable.
Retrieving data
Evernote 1.4 makes it easy to retrieve your data once it's been saved. You can add tags to your notes and retrieve them using Evernote's search tool. Or, using the program's sidebar, you can select specific attributes, such as the date a note was created or where it was created, such as on your mobile device, to filter your search information. But one of Evernote's more amazing capabilities is its ability to recognize the text found in images you've captured. For example, take a photo of a document, prescription label, book cover, or anything else containing text, and within seconds of when that image is uploaded to Evernote's servers, that text is fully searchable. This feature even works with most handwritten text as long as it's reasonably legible.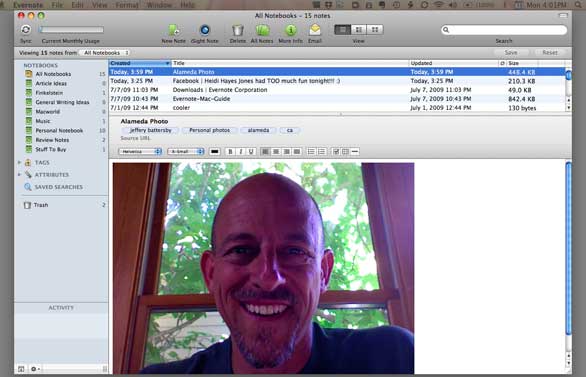 Macworld's buying advice
Evernote 1.4.7 is a versatile tool for capturing a wide variety of information and syncing that information among a variety of platforms. While there are some odd feature differences between the iPhone app and its desktop corollary, especially when it comes to adding audio notes, there's also quite a bit of power in Evernote's Web back end. The program's text recognition and search capabilities are unique and powerful and it's features like these that make Evernote a real standout.
[ Jeffery Battersby is a (very) small time actor and writer living in upstate New York.]