At a Glance
Expert's Rating
Our Verdict
While the iPhone-app market has gone ga-ga for Twitter, the social networking service that lets you send 140-character messages, Mac developers have been less prolific. Tweetie, from Atebits, has gone the unusual route of jumping from iPhone app to full-blown Mac OS X program. This lineage shows, too: as pretty as the program is, at times it makes interface decisions that don't quite fit with established Mac conventions.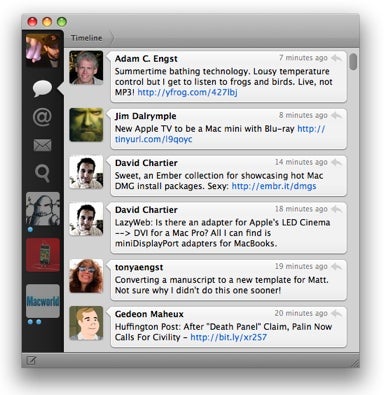 Unlike the Iconfactory's Twitterrific, which can float above the windows of other programs, Tweetie is a program unto itself, with its own Dock icon and, optionally, menu-bar status icon.
The program's interface is clean: on the left-hand side of the window is a large icon for your Twitter account, with a set of icons just below it corresponding to different types of messages: tweets from people you follow, mentions (@ replies), and direct messages. There's also a search icon. Click on one of these and the chosen view scrolls into place to the right.
But Tweetie's greatest strength is its ability to handle multiple accounts—say, a personal account and one for your business—without having to log in and out of each. With multiple accounts configured, Tweetie displays the avatars for each in the sidebar; click on one to display the aforementioned icons for tweets, mentions, direct messages, and search.
For accounts you aren't currently viewing, Tweetie displays blue dots to indicate new tweets, mentions, or direct messages. However, these dots all look the same, so you have to remember which position—left, center, or right—means what. You can also customize the program's new-message notification options—the menu-bar icon, Growl, and a Dock-icon badge—on an account-by-account basis, although I wish the Dock-icon badge displayed the number of unread messages.
A standout feature is the conversation display. Double-click on a tweet that contains an @ mention, and Tweetie displays the entire conversation thread, even if you don't follow all the participants. You can also click the avatar of any user to see their profile or view lists of their favorites, mentions, and recent tweets.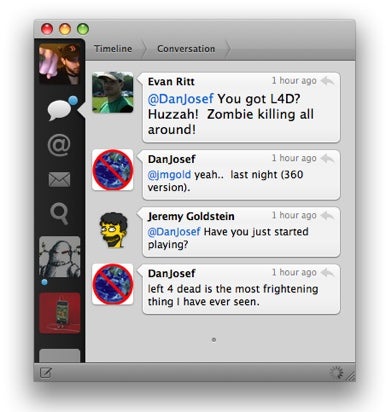 Tweetie also makes it easy to post a message with a photo: just drag and drop an image file into the program's New Tweet window; Tweetie will automatically upload the image to the hosting service of your choice and include a link to the image when you post the message. You can also attach an iSight-created video to a tweet.
On the tweet-reading side, clicking a link to an image displays the image in a Quick Look-style window instead of bouncing you to a Web browser. You can also have Tweetie display a preview of a shortened URL before visiting the link.
There are some interface quirks in the program. For example, you have to use the unintuitive space and shift-space to page through messages—page up and page down don't work—and the "breadcrumb" interface at the top of the window is a bit unintuitive at first.
On the whole, though, Tweetie is an excellent, easy-to-use Twitter client that will especially appeal to those who have to manage multiple accounts.