Simple News joins a bevy of news apps and RSS readers for the iPhone and iPod touch. Indeed, there are so many news apps and RSS readers now that it's easy to lose track or simply get overwhelmed in the clutter. As I was reviewing Simple News, I realized two things: 1) I have 18 news and RSS apps on my iPhone; and 2) I really need to clean up that mess.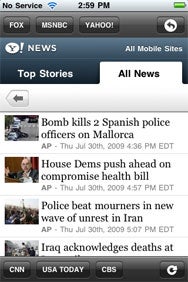 Simple News might prove to be part of the solution. The $1 app from Mirando is exactly as the name would suggest. It aggregates stories from six sources (at least one of which is also an aggregator)—Yahoo News, MSNBC, Fox News, CNN, CBS, and USA Today. Connoisseurs of newspapers may lament the bias toward cable TV news, but the truth is all of these online news sites rely heavily on wire services, such as the Associated Press and Reuters. For breadth of coverage, Simple News rates quite well.
The interface isn't pretty, but it is pretty simple. You tap the source you want to read. A back button at the top of the screen gives you a bit of navigational freedom, and a reload button at the bottom right of the screen reloads content. As a matter of fact, the developers boast about the two buttons as a feature on their App Store page. And, really, what more could you ask for?
Well, a couple of simple things, come to think of it. First, it would be nice to be able to adjust the type size, either with a pinch-zoom or a button of some kind. The default type is what would appear on a mobile site, and it may be fine for most eyes, but users should have the option. Also missing is the ability to flag or bookmark stories.
Astute readers will notice quickly that Simple News is nothing more than an app browser with six bookmark buttons, minus an address window. ("Duplicated functionality," anyone?) Browsing the headlines on Yahoo News, for example, you can tap the link for "all mobile sites" and be redirected to Yahoo's mobile site index. You could check your Yahoo e-mail through Simple News, if you wanted.
You're probably thinking, "Why would I pay a dollar for that?" It's not as if you dreamed up the idea, now did you? It's a simple app that works as advertised. Nothing wrong with that.
Simple News is compatible with any iPhone or iPod Touch running the iPhone 3.0 software update.
[Ben Boychuk is a columnist and freelance writer in Rialto, Calif. Feel free to e-mail him.]