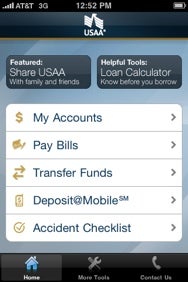 The iPhone's about to weasel its way into one more part of my life. According to The New York Times , private bank and insurance company USAA will be updating their iPhone app to allow you to deposit checks from the device.
Speaking as a USAA customer, this is supercalifragilisticexpialidocious news. I've long been thinking of ditching my Bank of America account in favor of a USAA checking account—lower fees, for one thing—but I've been held back by a few minor obstacles, such as the annoyance of having to deposit checks. A couple years ago, USAA added the ability to scan checks in and deposit them online, but alas I don't have a scanner, nor the inclination to buy one sheerly for the purpose of depositing checks, convenient as that may be.
But I've already got an iPhone and—better yet—I don't need to go anywhere in order to deposit checks with my phone; I can do it all from the comfort of my own desk. No more traipsing out in the freezing cold of winter just to make sure there's money in my bank account. Sure, it'd be preferable if the whole banking industry figured out a way to get rid of checks period—they're just bits, people—but for the meantime, this will do.