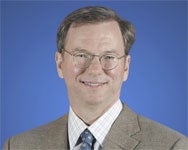 It's been a whole week since Google CEO Eric Schmidt stepped aside from his position on Apple's board of directors, but all that means is that there's been plenty of time for people to dig up interesting information on the two companies.
For one thing, we learned precisely what Schmidt got out of his role as a director, at least in a tangible sense: namely, a heck of a lot of Apple equipment. Despite serving on Apple's board for almost three years, the Google CEO took no pay or stock options from Apple, according to SEC filings unearthed by BusinessWeek. Other directors for the company not only receive an annual fee of $50,000, but are eligible to purchase 30,000 Apple shares initially, as well as 10,000 additional shares per year. While Schmidt never took advantage of those opportunities, he did purchase 10,000 shares of Apple on the open market with more than $700,000 of his own money.
Schmidt did, however, use the board member's prerogative of receiving free products, to the tune of $8,712 worth of tech in fiscal year 2008. In addition, he received a "commemorative gift" valued at $7,580, plus tax liability, that was also given to several other Apple executives. Sadly, we can only guess at what this gift entailed: a gold-plated Apple TV? A platinum Apple paperweight? A mythical Mac tablet? Perhaps a piece of Steve Jobs's immortal soul?
Despite not receiving much in the way of tangible compensation, it's apparent that Schmidt's role on Apple's board paid strategic dividends. News also came out this past week that Apple and Google had an informal "no poaching" agreement not to hire away each others' employees. Tech blog TechCrunch reported on the alleged deal, citing unnamed Google sources who also implied that the lynchpin of the deal was Schmidt's position with the two companies. With the Google CEO's departure from Apple, it's uncertain as to whether or not this deal will continue to hold.
Unfortunately, this is also the kind of thing that the FTC is very interested in investigating, as such hiring can help competition. Whatever the case, it seems likely we haven't heard the last fallout of the Google/Apple divorce yet.