For a lot of people, SMS messaging—more commonly known as "texting"—has become one of the primary ways to communicate with friends and family. The iPhone's native Messages app makes texting very easy, with one major exception: there is no way to have a group conversation via SMS. True, you can text multiple people in the same message, but their replies come individually.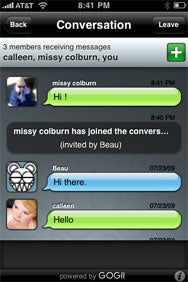 Gogii offers a solution to the problem with its free textPlus app. And there's an additional killer feature, too—the ability to send text messages from your iPod touch.
To start a chat in textPlus, you simply choose numbers from your Address Book or enter them manually. (If you have profile photos set for your contacts, textPlus automatically uses those images as avatars.) The app's interface uses the familiar bubble quotes from the default Messages app. A recent update for the iPhone 3.0 software added push notifications for message alerts.
You can invite multiple people to the chat. Once each recipient accepts the invitation, you can carry on a conversation. Think of it like an online chat room, only on your phone.
Your iPod touch-toting friends don't need to be left out either. As long as they have a mobile phone that can receive SMS messages, they can link their number with textPlus. (A one-time verification code needs to be confirmed.) From that point forward, conversations that are initiated within textPlus will be routed to the app; regular SMS messages will continue to arrive on your mobile phone.
I spent a long time testing textPlus, and while it ultimately worked how I expected it to, there were a few small bumps along the way. Gogii tells you that you don't need to enter your mobile number into the app to use it. While this is true, it lead to a lot of initial confusion. Without having your number entered, it's much harder to track conversations. Once I entered my number and allowed it to be synced, all these issues went away—I was enjoying group chats with other iPhone users and iPod Touch users in no time. The concept of group chat via SMS is simple, but getting it to work across multiple devices and cell carriers requires some heavy lifting behind the scenes from Gogii.
Once everything's up and running, textPlus is a pleasure to use. This well-done app pulls off group communication with ease. If only it were that easy to get everyone in your group chats to agree on where to meet for dinner.
textPlus is compatible with any iPhone or iPod touch running the iPhone 2.2.1 software update.
[ Beau Colburn lives in Boston where, when he's not texting someone, takes a lot of photos and cheers for the Red Sox.]