Among the flicks making the rounds at cineplexes this summer, the Disney/Pixar film Up was a great movie—so great that it apparently merited two separate iPhone apps. Unfortunately, both are pretty lousy.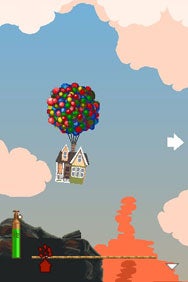 First up—ha!—is UP By Disney*Pixar, a $1 app from THQ Wireless. (Confusingly, the other game is called simply Up and actually is from Disney/Pixar.) While THQ Wireless version of Up tries hard, it's just not very fun.
In Adventure Mode, you alternate between two methods of gameplay: On some of the 24 levels, your job is to keep the balloon-tethered house aloft, tapping the iPhone to go higher and releasing to descend. You grab bunches of bizarrely stationary helium balloons to "refuel," and try to avoid poorly-drawn headwinds. You're also meant to aim for similarly poorly-drawn tailwinds, though I found them visually indistinguishable. It's playable, but exceedingly dull.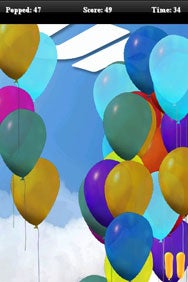 In between flying levels, you control Carl and Russell (the film's main characters) as they're hanging onto the flying house. You tap to the left or right of them to get them to move, or swipe up to jump. The physics, and the controls, are a bit fuzzy. Wilderness Mode uses more of this "attached to the house" approach, with the added goal of collecting badges. Since precise movement is difficult, collecting tiny badges is even less fun than the rest of the game.
Somehow, though, the free game Up from Disney is even more of a rip-off than THQ's $1 app. It too is tied to the excellent film, but is so lamely childish and devoid of fun that it's an insult. Your sole goal: Pop as many balloons as you can in 45 seconds. Whoever thought that tapping the iPhone screen at random for the better part of a minute would be a good tribute to a nearly universally acclaimed film, let alone fun, should be sentenced to an eternity of playing it.
Both versions of Up are compatible with any iPhone or iPod touch running the iPhone 2.2 software update.
[ Lex Friedman is on the up and up when he contributes to Macworld.]