iTunes is a great tool for managing your music, and it's also a wonderful jukebox for listening to music when you're in front of your Mac. But it can also stream music to other devices, in different rooms, so you can listen to music from your iTunes library anywhere in your home or office (as long as the device is connected to your network). Here's how to stream music using Apple devices.
Apple provides a complete solution for extending iTunes' range over a network. In addition to sharing your iTunes library to other computers, Apple's hardware lets you stream it to a stereo. First, the AirPort Express ( ), Apple's mini Wi-Fi device, has a unique feature that lets you use it to relay music it receives through the air from iTunes. This feature, called AirTunes, needs to be turned on for the device. In the AirPort Utility, which you use to configure AirPort devices, select the AirPort Express, click on Manual Setup, then click on the Music icon at the top. Check Enable AirTunes, and give the device a special iTunes speaker name (you might also want to password protect it, so your neighbors don't decide to stream their ZZ Top songs on your AirPort Express at 4 a.m.).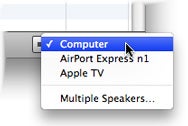 Once you add a device to stream music to, iTunes will spot it. To play music through that device, all you need to do is select that device from iTunes. At the bottom-right of the iTunes window, a speaker menu displays when iTunes has found a compatible device on the network. Click on that menu to choose among the possibilities available on your network: Computer, or an AirPort Express, or even an Apple TV. You can also choose to stream music to multiple speakers; select this option, then check the speakers you want to use. On the AirPort Express end, all you need to do is connect the device to your stereo—or to portable speakers—with an audio cable from the AirPort Express's analog/digital audio-out jack. (Note: when iTunes streams via AirTunes, it streams music in Apple Lossless format. Regardless of the bit rate and compression type you use for your music, it will not lose any quality when streamed.)
If you have an Apple TV ( ), you have several ways of listening to your music on a stereo. You can sync music to the Apple TV and play it from there directly through a TV or stereo, but if the hard drive is not big enough for all your videos and music (which is often the case), linking your iTunes library to the Apple TV is all you need to stream anything in that library. You actually don't need to sync anything to the Apple TV, once it connects to your iTunes library. You can stream any of its content, as long as your Mac is on and iTunes is running.
You can also use an Apple TV as an AirTunes speaker, even if it's not linked to your iTunes library. In the device's settings, choose AirTunes, then turn AirTunes Speaker on. In iTunes, you'll see the Apple TV listed in the Speakers menu. Just select it and start playing music.
Now, all this is interesting, but if you have to run from your living room, where you're relaxing and listening to music on your stereo, back to the room where your Mac lives in order to queue up an album, that'd be a bit of a drag. Fortunately, Apple released its free Remote app ( ) for the iPhone and iPod touch. With this app, you can connect to your iTunes library and control playback through your Wi-Fi connection.
With Remote, you connect to your library, choose the music you want to listen to, then tap on the Speakers menu to choose where to send the tunes. As long as you have these three devices—Mac, AirPort Express, and iPhone or iPod touch with Remote—you can control your music from anywhere in your home and play it back on the device of your choice. If you have speakers connected to AirPort Expresses in different rooms, just change the device selected in the Speakers menu and sit back and enjoy your music.
[Senior contributor Kirk McElhearn writes about more than just Macs on his blog Kirkville.]