Roku on Monday announced that its $99 video player box, which previously played only Netflix and Amazon video content, would also support both live and pre-recorded video streams from Major League Baseball.
The baseball features, enabled by a free update to the player, require an MLB.TV Premium subscription, available for $35 for the remainder of the 2009 season. (That same MLB.TV Premium subscription also allows users of the MLB At Bat 2009 iPhone application to view live game video on the iPhone.) It marks the first time that the Roku box has played live video content.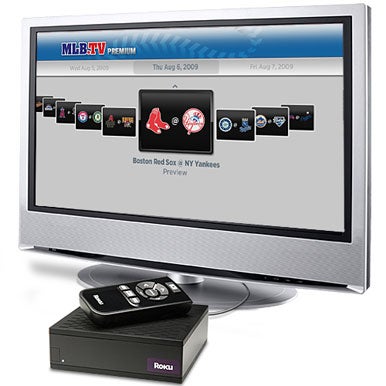 As with all MLB.TV products, only out-of-market games are available, meaning that you can use the service to watch any game that doesn't involve your local teams.
Major League Baseball previously made a deal to stream live game video via Boxee, a multimedia player that runs on the Mac, Windows, and even Apple TV.
In a brief test of the service Monday, game video appeared smoother than on Boxee running on a Mac mini, though the video was roughly of standard-definition quality.
Existing Roku video player customers who wish to enable the upgrade simply go to the player's Settings screen, choose Player Info, and select Check for Update. If the first check results in no update, a second check should immediately begin the update. Users who don't initiate the update themselves will receive the update automatically in the next few days, Roku said. Once the update is downloaded, users go to www.mlb.com/roku, log in to their MLB Premium account, and enter a code that ties their MLB account to their Roku player.