Ever since the iPhone 3G added GPS into its feature mix, users have been clamoring for turn-by-turn directions of the sort used by standalone car navigation units. While Google Maps can do directions, its lack of automated prompts and voice feedback means that it's not ideal to operate when you're the only person in an automobile. Not to mention that its map data is dependent on having an Internet connection, so if you lose cell reception, it's bye-bye directions.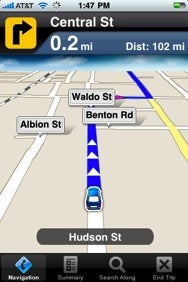 The recently released iPhone 3.0 software at last allows for third-party applications to do turn-by-turn directions, and one of the first offerings in the App Store is AT&T Navigator. Though the name of Apple's carrier partner is plastered on the app, the program itself is developed by TeleNav, which makes GPS direction apps for many cell phone platforms. In fact, TeleNav also makes the Sprint Navigation app that ships on the Palm Pre, which I happened to be reviewing at the same time, and the two are effectively identical.
AT&T Navigator is certainly friendly enough: upon launch you're presented with a list of options: Drive To, Search, Maps & Traffic, and Tools & Extras. Tapping Drive To prompts you to choose an address from your favorites or recent places or enter an address, business, airport, or intersection. Unfortunately, there's no link to your iPhone's contacts as there is with Google Maps. On the upside, though, if you know where you're going ahead of time you can enter addresses on the TeleNav Web site and have them synced to the phone.
If you search for an address, a sheet pops up that offers to either let you type the address in or use voice recognition to speak the address. If you use the latter, your phone will call a number where you'll tell the nice computer on the other end of the line where you want to go. In testing, this had mixed results: while visiting a friend in western Massachusetts, we tried to use it to get directions to the University of Massachusetts, Amherst, which, to our dismay, the infernal machine took great pleasure in repeatedly interpreting as the "University Hypnosis Center." Right.
Like most standalone GPS units, AT&T Navigator will give you audio cues to let you know what turns to make. Unfortunately, its voice is a little grating and it talks a lot. This is most noticeable if you make the unwise decision to try and play music from the iPhone at the same time; while Navigator is smart enough to pause the music when speaking, it does so with no fade-in or fade-out, making listening to even your favorite song a frustrating, interrupted mess at best. You can turn the audio off in the preferences, but, well, it kind of defeats the purpose of a large part of the program's appeal.
On the direction side, the routes aren't always optimal. On that same Western Massachusetts trip, Navigator insisted that my friend's shortcut wouldn't work, repeatedly asking us to turn around. Of course, once we did actually take the shortcut—which, naturally, did work—the voice innocently rerouted to accommodate as if nothing had happened. In my hometown of Somerville, the routes were also often non-optimal; then again, the Metro Boston area can be particularly difficult to navigate.
While the app can check for traffic, it's really only useful if you're traveling by highway—it won't help you avoid trouble spots on local streets. You can, however, choose different navigation styles—including Traffic Optimized, Prefer Highways, or Prefer Streets—but you can't change a route style once you've searched for directions—you have to end the trip and start again. And viewing the bird's-eye map view is pretty sluggish, especially when zooming in and out.
The biggest downside to the AT&T Navigator GPS, though, is that as with Google Maps, the program's maps aren't stored on the iPhone, meaning that if you lose your data connection, your maps go poof. On the upside, there's no need to ever download updated maps—but that's cold comfort to being stuck in a treacherous mountain pass in whiteout conditions with no directions.
Overall AT&T Navigator is just OK. If you need the turn-by-turn directions and voice prompting, it's a step up from Google Maps, but if you have a passenger in your car, you're honestly just as well off using the iPhone's built-in features. AT&T Navigator will get you where you're going, sure, but perhaps not as quickly as you'd like.
AT&T Navigator is compatible with any iPhone running the iPhone 3.0 software update.
[Dan Moren is an associate editor for Macworld.]