The National Football League doesn't kick off its season for another month—well, 30 days, but who's counting—but iPhone and iPod touch users can get a jump on the season with NFL 2010 from prolific iPhone game maker Gameloft. The $8 football game made its debut on the App Store last week and is climbing its way up the store's charts.
Certainly, there's a need for football games on the iPhone. LED Football 2 offers a certain nostalgic sense of fun for those of us who grew up in the '70s and '80s, but even its developer touchGrove would concede that this recreation of the Mattel Football handheld game is not exactly state of the art. Of the other iPhone football games I've taken a look at, X's & O's Football and Pocket Sports Football offer something approaching line-of-scrimmage action. But the former is just a series of passing plays, and the latter lacks license agreements with the NFL, so you have to make do with generic players and teams.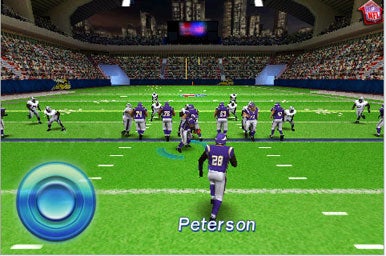 Not so with NFL 2010. Gameloft secured a license agreement with the NFL, so you get to use actual players from actual teams—meaning you can pit the Arizona Cardinals against the Pittsburgh Steelers in rematch after rematch of Super Bowl XLIII until the plucky upstarts from the desert finally pull off that upset.
In addition to full rosters, NFL 2010 features an expansive playbook, 3-D graphics, in-game audio commentary, and a virtual pad for making your virtual LaDainian Tomlinson spin his way free from defenders. In future updates, Gameloft promises online, Bluetooth, and Wi-Fi multiplayer capabilities. The game runs on the iPhone 2.2.1 software on any iPhone or iPod touch.
Whether NFL 2010 wins the hearts and minds of pigskin fans, it can claim at least one accomplishment—it beat the mobile version of Madden Football to the iPhone. Earlier this year, EA Mobile announced plans to bring Madden NFL to the iPhone, but so far, there's been no sign of the recently retired announcer or the football game that carries his name at the App Store.