Electronics vendor iHome today announced the official release of the Studio Series iP1 audio system. First announced in May, the iP1 features a transparent body, 4-inch woofers, 1-inch tweeters, and a Class-D amplifier that provides a total of 100 Watts of power. But according to iHome, the iP1's flagship feature is Bongiovi Acoustics' Digital Power Station (DPS) technology, a kind of active equalization that claims to monitor audio in real time and compensate for "deficiencies across the audio frequency spectrum, effectively restoring it to the sound the artist originally intended to be heard."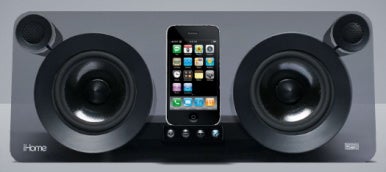 The iP1 also features a Universal-design dock, a wireless remote control, a 3.5mm stereo input for connecting an additional audio source, and composite- and component-video outputs for viewing iPod- or iPhone-hosted video and images on a TV. The system is Made for iPod- and Works with iPhone-certified.
The iP1 is available from Apple, Best Buy, and the iHome Audio Web site for $299.