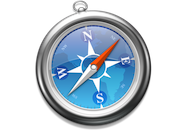 Safari 4.0.3, I presume? Apple dropped the latest update to its Web browser on Tuesday, bringing with it some stability improvements, bug fixes, and security patches. Those who hoped for anything fancier—I've still got my fingers crossed for VRML support—will have to wait until a more substantial update.
According to Apple's download page, Safari 4.0.3 is as stable as a barn full of horses, improving reliability for Web pages that use the HTML 5 video tag, third-party plug-ins, and Top Sites. It also fixes an issue that prevented some poor users from logging into iWork.com (as well as reminding the rest of us that iWork.com actually exists) and a problem that could cause Web content to be displayed in grayscale instead of color—shades of 1984!
Of course, what would an update be without some security patches? Safari 4.0.3 plugs half a dozen holes, most of them in the underlying WebKit framework, though one in the flashy new Top Sites features, and one in the CoreGraphics framework credited to a Google employee—see, the two can still be friends.
Available via Apple's download page or Software Update, Safari 4.0.3 weighs in at 40MB for Leopard, 26MB for Tiger, and 27MB for Windows users. It requires Mac OS X 10.5.7 or later, 10.4.11 (including Security Update 2009-003), or Windows Vista or XP.