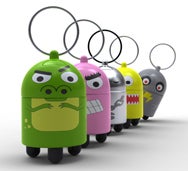 If you primarily use a small point-and-shoot camera, chances are you don't haul around a cumbersome tripod as well. Just because you're packing light is no reason to let shaky hands or low-light keep you from getting a steady shot. Up your game by having a small, portable and, yes, adorable tripod on your person at all times.
Community product design company Quirky's latest creation, the DigiDude, is a small key chain character that transforms into a tripod. Just detach its head, extend the three bendable legs, and attach it to your pocket-sized camera or camcorder (like a Flip). The DigiDude comes in five distinct personalities: Snot Buster, Pinky Scorsese, G-bling-Money-Son, iChomp, and BoltBot. When not decapitated, the DigiDude fastens to your keys, purse, or camera bag and awaits further instructions.
The DigiDude can be pre-ordered now for $20, but there's a catch—you won't receive your new tripod right away. First, 250 units must be pre-ordered. Only then will Quirky begin the manufacturing and shipping process, which will take about 6 weeks. (Don't worry, your card won't be charged until the product reaches the minimum number of pre-orders.)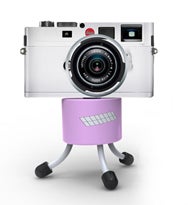 Why the delay? It's all part of Quirky's unique business model. In the tradition of t-shirt company Threadless, Quirky creates products by crowd-sourcing product ideas. Designers pay $99 to submit an idea, then the community picks the best and collaborates to shape all aspects of that product's development, ultimately choosing which doodads get sold on the site. Quirky pushes one new product into pre-sale mode each week. So far only one gadget has gone on to be manufactured since the company's June 2nd launch—a two-sided USB drive called the Split Stick.
If you're patient, interested in supporting upstart designers, and looking for a small tripod with a face, check out the DigiDude.