Using a certain song as an alarm sounds pretty simple—so simple, in fact, that the iPhone's built-in alarm clock doesn't let you do it.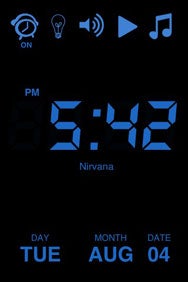 Enter AlarmTunes, a simple app from McLean Mobile Solutions that plays whatever song or playlist you want when the alarm on your iPhone or iPod touch goes off.
AlarmTunes certainly works. You can easily select whatever song you want, and it plays without trouble. Some user reviews posted on the App Store claim that the app didn't go off at the time they had set, but I used the app for more than a week—in that time, AlarmTunes didn't miss a day. (Note that you have to keep the app open when you go to bed for the alarm to function.) When the song plays, it fades in instead of blaring, so you're not shocked out of bed.
A time display in AlarmTunes looks just like the face of a dedicated alarm clock, complete with the digital readout—a nice touch. The night-time color—a black background with light blue numbers—is nice as well, though quite bright in a dark room. That seems to be a function of the iPhone's backlight, and not something that AlarmTunes can help.
You tap the alarm icon in the top left of the screen to edit alarms, which I found a bit confusing at first. When I first laid eyes on the icon, I thought tapping on it would simply turn off the alarm, and I wondered where the app listed your alarms.
That's a relatively minor issue, however. AlarmTunes' most serious problem is that while you can set multiple alarms, you're only able to set times and not days. Say you want to schedule one alarm for weekdays and another for weekends—AlarmTunes doesn't distinguish between the two. That means unless you want that 6 a.m. alarm waking you up on a Saturday when you'd prefer to sleep in, you have to open the app and turn on the proper alarm the night before. That's a bit of a hassle.
A free lite version of AlarmTunes limits you to setting a single alarm and a single song. In many ways, though, it's a better choice than the paid version, especially if you don't need to vary your alarm time. Until the $1 version of AlarmTunes gets better scheduling features, it's a merely a promising app that's not as usable as it should be.
AlarmTunes is compatible with any iPhone or iPod touch running the iPhone 3.0 software update.
[Kyle Baxter writes and publishes the Mac weblog TightWind.]