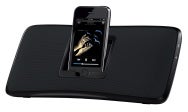 Logitech on Tuesday announced two new iPod-dock speaker systems, the Rechargeable Speaker S315i and the Portable Speaker S125i. Both systems sport a Universal iPod dock and can be powered by batteries or AC power.
The $130 S315i works with iPhones and dockable iPods, and also provides a stereo-minijack input. A rechargeable battery provides up to 20 hours of portable listening via a special power-saving mode. The system is 10.8 by 1.8 by 5.2 inches in size and weighs approximately 1.5 pounds.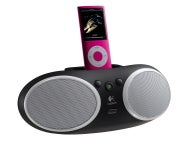 The $70 Portable Speaker S125i works with dockable iPods, as well as with other audio sources using a stereo-minijack input. It can play for up to 10 hours off four AA batteries and provides a bass-boost feature for enhancing bass response. The S125i is 7.8 by 3.5 by 3.4 inches in size and weighs 0.8 pounds.
The S315i is scheduled to ship later this month; the S125i will ship in September. The Logitech Web site had not been updated with information about the new products at the time of publication.