Without a doubt, the freelance life has its benefits. No fixed hours. Plenty of mobility. No dress code. If you have a laptop and a cell phone, you can work from just about anywhere—as long as you double check that you are wearing pants before you leave the house.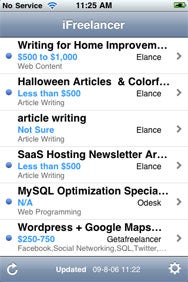 The freelance life also has its drawbacks, insecurity looming largest among them. It can be feast or famine. And in an ever-changing economy, we know that independent contractors come in all manner of species: programmers, app developers, public relations consultants, even—God help us—telemarketers. For a freelance writer, hustling for work often consumes more time than the work itself. Whatever freedom the freelance life may offer—a "freedom" that for many professional journalists has been lately thrust upon them—there is much to be said for the security of a regular paycheck.
Kele's iFreelancer for the iPhone and iPod touch gives independent contractors a one-stop shop for the latest freelance opportunities tailored to their unique skills. The app aggregates listings from several Web sites that help guide freelancers toward paying work, including Elance.com, Odesk.com, Getafreelancer.com, and Scriptlance.com, which caters primarily to independent contractors in the programming world.
iFreelancer is essentially an RSS reader for job listings. The interface is spare. The app lets you choose how many recent listings you would like to view, from 25 up to 200. (The free iFreelancer Lite limits you to viewing six projects at a time.) You can add Web sites to the default list, tailor the categories of jobs you wish to browse, and view project details through a built-in browser or by launching Safari from a button within the app. (But unlike most RSS readers, you cannot flag listings for follow up or mark all listings as read.)
Read more…
I imagine that a newcomer to the freelance game would find using iFreelancer to be an unsatisfying and depressing exercise. This is not entirely the developer's fault. After all, he cannot be blamed for the illiterates who post jobs on Elance or Odesk soliciting 300-word articles at $10 a piece, or worse, who seek editors for a three-hour rewrite assignment willing to accept $5 for the entire job. To read these listings, rife with the most elementary spelling and grammatical errors, is to understand why people 1) need the help of professional writers; and 2) seem to value the services that professionals provide so little.
Grumbling aside, iFreelancer has a couple of drawbacks. Customizing your categories isn't quite intuitive as it might be. To narrow the job results iFreelancer will show, you need to go into your preferences and tap the "websites-categories" section. The app will pop up another window displaying the default sites. You then select which Web sites you are interested in modifying and go back to the main preferences page. From there, you can tap the Web site name and proceed to edit the categories you wish to see and exclude.
Also, the app has a tendency to choke on new data after you change your settings. Ordinarily, iFreelancer will auto-check for new listings every 15 minutes or so. Occasionally, changing settings will disable the update. The developer suggests deleting all previous project data to break the jam. That works, but you'd better hope nothing important was in there.
The good news is, the latest version of iFreelancer fixes a bug that was causing the app to crash more in eight minutes than all of the world's stock markets have crashed in eight decades. Once, it even crashed when I looked at my iPhone slightly askance. Happily, iFreelancer is just stable enough now for you to be impressed with how unstable the freelance market really is nowadays.
Bottom line: iFreelancer is a fair utility for job hunters. But independent contractors will most likely find that their needs are better served cultivating contacts and building clients the old-fashioned way, rather than hoping for quick and easy work through impersonal online services. They aren't worthy of your talent. Happy hunting.
iFreelancer is compatible with any iPhone or iPod Touch running the iPhone 2.x software update.
[Ben Boychuk is a columnist and freelance writer in Rialto, Calif. Feel free to e-mail him.]