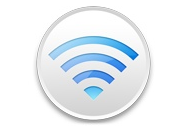 I'm not a big fan of going to the airport—the lines, the overpriced food, the little carts zipping all around—but I do like AirPort wireless networking. And I especially like it when it works. As an itinerant writer, I'm forced to make do with Wi-Fi wherever I can scrounge it, and sometimes, I'll be honest, it gets a little wonky.
On Tuesday, Apple air-dropped an AirPort Client Update for MacBooks and MacBook Pros that helps address an issue with AirPort on notebooks while they're running off battery power. That's all the company wrote on the matter, so if you've got a 13-inch MacBook from the Late 2007, Early 2008, or Late 2008 iterations; a 15-inch MacBook Pro from Early or Late 2008; or a 17-inch MacBook Pro from Late 2008, go pick up this 1.68MB update from Apple's support section or via Software Update. You'll also need to be running Mac OS X 10.5.8 to partake of the light, airy goodness.
Let us know if it cures all your AirPort-related ills (or anything else for that matter).