Grunts from Freeverse is a shoot 'em up-style overhead game packed with action. You lead a squad of four soldiers through a South American jungle, blasting your way through "badly trained evil chaps" to get their boss.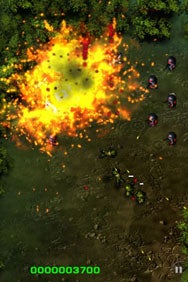 You and your squad of miniature warriors are armed with assault rifles as well as secondary weapons you find along the way—grenades, rocket launchers, and sniper rifles. Scattered around the jungle, you can also find health packs, binoculars, and reinforcements to replace lost troops. In later levels, you even get to blow up bad guys with a tank and fly over the treetops in an attack helicopter while raining fire down on them.
There are four levels of difficulty in Grunts—Easy, Normal, Hard and Grrrnnnnaaargh. You can also unlock a zombie survival mode in which you continuously blast wave after wave of bloodthirsty zombies. You can play Grunts in either landscape or portrait mode depending on how you orient your iPhone or iPod touch.
To beat the game, you'll have to fight your way through 40 levels of jungles, swamps, and villages teeming with enemy snipers, troops, tanks, and more. As leader of your squad, you receive missions to carry out—find and destroy tanks, take out a sniper, destroy all enemy soldiers, and so on. The further you progress in the game, the harder completing these missions become.
At first glance, there doesn't really seem to be much strategy to the game other than just running in full force like Rambo and hopefully shooting down the enemy troops before they can kill you. But I soon realized that grenades can be tossed over objects. This allows you to take cover behind buildings or trees while lobbing grenades at the bad guys.
You control your troops by tapping the screen and they walk to that spot. If you drag your finger around the screen, they follow, saving you from repeated tapping. To fire, you double-tap and hold down on the screen, and your grunts will continue to shoot until you let go. You can also double-tap on a pillbox or a tank to automatically fire your secondary weapon (like grenades or rocket launchers) instead of having to manually switch to them.
This kind of control scheme can present a problem, however, with you finger sometimes getting in the way of the action onscreen. After I got used to Grunts' controls, though, I didn't feel it really detracted from the game too much.
Grunts has great graphics with treetops that sway in the wind and clouds that drift by overhead, but the best effect involves the explosions. When you blow up a tank or ammo dump, the ensuing explosion is just awesome. A huge fireball erupts, sending bodies flying off screen with a loud kaboom. Grunts' audio also excels with immersive wildlife sounds throughout the jungle and the cool sound of gunfire and explosions. The voices of the grunts are hilarious and sound like chipmunks, adding to the game's charm.
Grunts is a fun and challenging game providing hours of entertainment. With 40 levels, different types of missions, cool graphics and sounds plus online leaderboards, it's a real deal at $1.
Grunts is compatible with any iPhone or iPod touch running the iPhone 3.0 software update.
[Tim Mercer is a technology enthusiast, graphic designer, and blogger, whose blog, digital-artist-toolbox.com, offers free resources to the digital artist and graphic designer.]