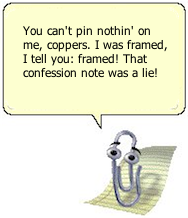 Wuh oh, Microsoft's in troooooooouble. According to the Seattle Post-Intelligencer , the Redmond-based software giant has found itself on the receiving end of an injunction (PDF) from the U.S. District Court for the Eastern District of Texas—and that should ring an alarm bell right there—where Judge Leonard Davis has declared that the company cannot sell a little product called Microsoft Word.
The world's most popular word processor is the subject of a court case brought by Toronto-based i4i over Word's ability to open files containing custom XML. As you might guess, i4i claims to hold a patent on a certain method of reading XML; Microsoft, meanwhile, says the patent is invalid and thus, Microsoft does not infringe upon it. For what it's worth, the Eastern District of Texas also has a certain reputation for being extremely sympathetic to the plaintiffs in patent infringement cases. In May, a jury found in favor of i4i, a verdict Microsoft said it would appeal.
Microsoft has 60 days to comply with the injunction and Judge Davis also instructed the company to pay more than $290 million in damages to i4i (and here we thought they'd be forced to give both an eye and a tooth). Of course, i4i actually makes software for working with XML in Microsoft Word, so it's clearly within their interest not to actually stop sales of Word. We're guessing this one gets solved with a little slip of paper containing a lot of zeroes.
We just hope, for the sake of all involved, that this matter is settled quickly and with a minimum of fuss: think of the clippy, people.