At a Glance
Expert's Rating
Pros
Flexible customization options
Cons
No multimedia playback
So-so image quality
Our Verdict
The 47-inch Vizio SV470M LCD TV is a midrange offering in its size class, priced the same as the Vizio VL470M (another 1080p, 120Hz 47-inch HDTV) but with fewer features (it lacks support for multimedia playback). The SV470M is also a magnified version of the previously reviewed Vizio SV420M (they share documentation)–but bigger isn't necessarily better: In our juried image quality tests, the SV470 scored somewhat below its smaller sibling.
In fact, the SV470 earned one of the lowest ratings for image quality in its test group–but that's mainly because the group as a whole performed very well. In a more diverse group that included some very poor performers, the SV420M scored a shade above average. The SV470M didn't get notably poor marks for any particular picture-quality attribute, but it didn't earn any high marks either, except on the motion benchmark and panning tests, where the set scored very well.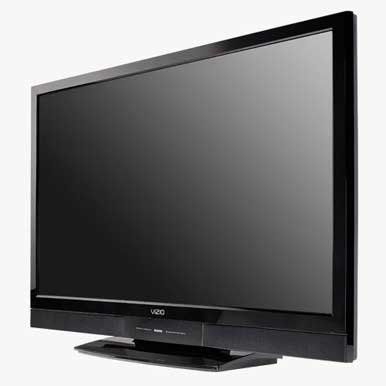 Meanwhile, the VL470M, which we tested in the same group, earned significantly higher scores on most tests and matched the SV470M's good scores on the motion test. The two sets performed identically in our energy consumption tests, too, with an average power-on consumption reading of 126 watts (within current Energy Star 3 guidelines, but not the best we've seen) and standby consumption of 0.2 watt.
The SV470M delivers a typical Vizio package of superior ease of use and plenty of options for tweakers. It has the same shiny black bezel as the SV420M, and its inputs are readily accessible on the back (three HDMI, one VGA for PC hookup, one composite/S-video, one component and coaxial for DTV antenna or cable) and on the side (one HDMI and one composite). Vizio provides no support for networking or Internet features, however, and you don't get a USB port or SD Card slot for viewing of content on external media (at this writing, spec sheets on Vizio's Website say that a service-only USB port is included).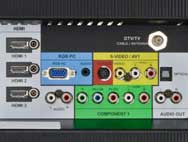 The first-time wizard includes a retail-versus-home use option along with the usual requests for language choice and video source, followed by automatic channel tuning.
The main menu collects numerous picture-mode presets, including separate ones for football, golf, basketball, and baseball, on top of the more conventional standard, movie, game, and vivid options. You can create one custom preset of your own to preserve your preferred settings for brightness, contrast, color, tint, and sharpness.
The advanced video settings include noise reduction, color enhancement, advanced adaptive luma (when turned on, this adjustment is supposed to sharpen details in dark areas, but we noticed no huge difference), backlight control, color temperature, smooth motion level, and real cinema mode (the latter two attempt to smooth out jerkiness that can occur when the TV displays certain types of content, including movies). Vizio helpfully provides a 'smooth motion demo', option which creates a split screen containing duplicate content and applies the effect on one side only.
The audio menu includes several music-type presets (rock, pop, classical and jazz) as well as the rather unappealing sounding "Flat" setting. There's also a rather unusual feature for synchronizing audio to lip movement when the two don't match, which can be helpful, as I discovered in my hands-on tests with some filmed content.
I found the SV470M's audio quality, like the SV420M's, to be acceptable; and I actually preferred the surround-sound simulation on the larger set.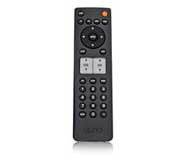 The picture-in-picture option lets you view images from two video sources–a TV channel and a Blu-ray disc, for example. (Since you'd need two tuners to toggle between two channels, that option isn't available.) A handy menu item lets you set up the two sources and control the size and position of the superimposed picture. Another nice option lets you create your own input labels of up to eight characters, using the remote to scroll through the alphanumeric characters. With this feature you can distinguish a Blu-ray player from any other HDMI-connected peripheral (which would otherwise be labeled simply HDMI1, HDMI2, and so on).
The compact remote is minimalist indeed, with no options for controlling other home theater components. But that limitation aside, its controls are clearly labeled and easy to find, with oversize volume- and channel-changing rockers and separate buttons for four input types (TV, composite or S-Video, component video, and HDMI). Alternatively, you can use a dedicated input button to bring up a complete list of video source options. A button labeled 'Guide' provides channel-specific information such as screen resolution, audio type, and station.
Vizio SV470M
| | |
| --- | --- |
| Performance | Fair |
| Features | Fair |
| Design | Very Good |
Scale = Superior, Very Good, Good, Fair, Poor
Vizio's printed documentation is first-rate, with a large, colorful quick-start sheet and a more detailed printed manual. Both are available in PDF format on Vizio's Website.
Macworld's buying advice
Though the SV470M is by no means a poor HDTV, recommending it is difficult when the VL470M has the same price tag, outperformed the SV470M in our image quality tests, and supplements the SV470 feature set with good multimedia playback support.
[Yardena Arar is a contributing editor for PC World.]