CrumplePop has released CrumplePop ShrinkRay, an effect for Apple's Final Cut Pro video editing application.
ShrinkRay uses tilt-shift photographic techniques to make large scenes—such as wide shots of crowds, urban canyons, forests, rivers, trees, buildings, or people—appear tiny. It lets you apply a new focal area to any footage, and then reposition, expand, or contract that focal area for maximum effect, all from within Final Cut Pro.

ShrinkRay is based on Apple's Master Template architecture, which lets you apply the effect within the program. It facilitates the creation of tilt-shift scenes by dragging and dropping the effect onto the Final Cut Pro timeline.
You can apply a new focal area to any footage, and then reposition, expand, or contract it for maximum effect, all from within Final Cut Pro. The effect also lets you add additional focus or defocus areas—for instance over trees or light posts—to make the effect look more photorealistic.
ShrinkRay supports 32 video codecs, resolutions, and frame rates including XDCAMEX, XDCAMHD, DVCProHD, HDV, DV, PAL, 1080p, 1080i, 720p, 480i, 24fps, 30fps, 25fps, 50fps, and 60fps. It works with both Final Cut Pro 6 and Final Cut Pro 7.
You can download ShrinkRay for free for one week, starting Wednesday, from the CrumplePop Web site Web site. Thereafter, the effect will cost $49.—Jackie Dove
ProVue releases Track Magic Pro analysis tool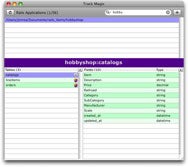 ProVue Development has released Track Magic Pro, an OS X-based analysis tool for Ruby on Rails applications.
The software allows administrators and developers to eschew the Rails Web interface for direct access to database tables and works with existing Rails applications without modification. It sports features such as rapid data analysis, local RAM caches of open tables, the ability to build hybrid Web/desktop applications, and an interactive GUI for Rake.
Track Magic Pro requires Mac OS X 10.5 or later and Rails 2.0 or later; it costs $299, but is available for a limited time for $100. A limited free version, Track Magic Lite, is also available.—Dan Moren
PDFpen adds support for documents with 128-bit AES encryption
A newly released update to PDFpen, the PDF-editing software from SmileOnMyMac, adds support for 128-bit AES-encrypted documents. In addition, PDFpen 4.2 gets support for the enhanced print event in AppleScript as well as other minor fixes and improvements, according to SmileOnMyMac.
PDFpen comes in two versions—the $50 standard edition and a $100 PDFpenPro version. The 4.2 update—which covers both standard and pro versions—is free to registered PDFpen 4.x users; others can upgrade from earlier versions for $25. PDFpen 4.2 runs on OS X 10.4 or later.—Philip Michaels
Note: When you purchase something after clicking links in our articles, we may earn a small commission. Read our affiliate link policy for more details.