Editor's Note: The following article is reprinted from the Today @ PC World blog at PCWorld.com.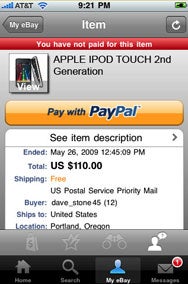 eBay Mobile, one of our favorite iPhone business apps, just got better. This tool for on-the-go buyers and sellers lets you bid on items, check prices, and answer customers' questions. Its newest release, available now at the App Store, also will send push notifications to bidders when they've been outbid, or when an auction is nearing completion. Upon receiving a push message, bidders can either tap the View button to take action (e.g., up their offer) or touch Close and forget about it.
Another new feature, Integrated Pay with PayPal support, allows buyers to pay for some items from within eBay Mobile, rather than having to resort to a conventional computer or the iPhone's built-in browser to complete a transaction. Also new is the ability to search completed items and descriptions.
eBay Mobile will soon allow you to create auctions using images you've taken with your iPhone, according to the company.