Editor's Note: The following article is reprinted from the Today @ PC World blog at PCWorld.com.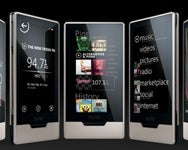 Starting today, you can pre-order Microsoft's new Zune HD online with Amazon, Best Buy, Walmart, or the Microsoft Store in anticipation of the device's September 15 launch date. Later this month, you'll also be able to visit Zune.net/zunehd to find links to the four online retailers and to get a more detailed look at the device.
As expected, the suggested retail pricing will be $220 for the 16GB model and $290 for the 32GB version. The Zune HD comes in five different colors, and you will have the option to add one of ten new engravings designed by guest artists to the back of your device. I'd love to tell you more about the available colors and engravings, but Microsoft did not provide further details.
If ordering online is not your thing, you will be able to pre-order in person at Best Buys nationwide beginning August 16. You can also get a sneak peek at the Zune HD in select Best Buy locations on August 22 and 23. Those locations include Atlanta, Boston, Chicago, Dallas, Houston, Miami, Minneapolis/St. Paul, New York, Los Angeles, Philadelphia, San Francisco, Seattle and Washington, D.C. area stores.
Microsoft is pitting its latest Zune player against Apple's iPod Touch, which offers similar features like Wi-Fi, touchscreen capability, and high-def video output (iPod touch displays 480p and 576p; Zune HD has 720p). But the Zune HD also has a few things the iPod Touch doesn't—including HD radio and a power-saving OLED display. It also looks like the Zune HD will be able to play games, according to Amazon's pre-order page, but it's unclear if the Zune HD's gaming capabilities will rival those on the iPod Touch.
On paper, the Zune HD looks like an impressive device, but don't be surprised if Apple makes an announcement about an iPod refresh just days before the Zune HD hits store shelves on September 15. One of the rumored features coming to the iPod lineup is an iPhone-like camera for the iPod Touch, which could give the device a huge advantage over Microsoft's new Zune. So what do you say? Will the Zune HD be a tough competitor for the iPod Touch or will Apple surprise Microsoft by blasting ahead with a host of new iPod features?