Over the past two years, social networks have pretty much taken over the world. For some—especially among the younger generation—services such as Facebook and Twitter are all you need to stay connected. E-mail is now old-school, and there's hardly any reason to venture beyond those portals if that's where you find your friends, news of the day, photos, and viral videos.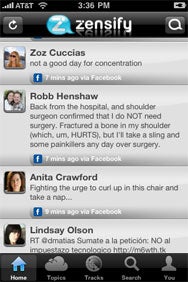 Zensify is a social network aggregator for the iPhone and iPod touch that feeds both of those networks, plus a few less common sites, into one interface. It's useful for seeing trends in topics, but falls short in comparison to more powerful tools and those that are a bit smarter.
Configuring your networks is fairly easy, although it takes ages to actually authenticate each service. You tap in your login for Facebook and Twitter, and then add other accounts for YouTube, Flickr, Digg, Delicious, Photobucket, and 12seconds. Because Zensify (as the name implies) has a zen-like quality of mind-melding with multiple services, it certainly can save you a lot of time. You can watch videos from within the app for 12seconds and YouTube, upload photos at will, and post one status update that appears on both Twitter and Facebook.
Zensify's app also lets you search across multiple services for trending topics. For example, E! Network talk-show host and comedienne Chelsea Handler is a rising star—you can search for her name, and see mentions and links on Facebook and Twitter. Tabs along the bottom of the screen let you do the trend searches, and you can also view a tag cloud that shows you popular topics. As usual, the value of these trend tools is highly dependent on who you have added as friends to the services in question. If all of your friends are super-intelligent, you will see very interesting trends. If you're like me and have 700 friends in all walks of life (some of whom you will never meet), your tag cloud might look like the cover of Us Magazine.
As you wade through the social network jungle, you can click on anyone and see their feed. Then, you can add it as a favorite for quick access. Zensify plans to add more social networks; as it does, the value of the app will rise as you are able to access, search, and see trend in multiple services.
One of the main issues with Zensify is that other apps do a better job at specific chores related to social networking. For example, Shozu is a better tool for uploading photos to multiple Web 2.0 sites—the tool supports about three times as many services as Zensify. Zensify lets you post one status update for Twitter and Facebook, but you might already be doing that with Twitterfeed.com.
Read more…
Zensify also has a strange tick: you can send a direct message to your Twitter pals but you can't answer Facebook messages. To its credit, Zensify does provide a built-in browser view for Facebook for accessing the full service.
The other problem with Zensify is that it runs quite slow, especially if you have thousands of friends on Twitter and Facebook. In my tests, the app would lag for a half-second when I clicked on just about anything. I'd prefer a "drill down" approach where you can limit the app to just a sub-set of friends somehow. This might be dependent on Facebook and Twitter adding such a feature, but Zensify could probably accomplish the goal by providing an initial search mechanism—only show me friends that are my age, for example.
Zensify is just one of the many social net aggregators for the iPhone. Another example is Tweetdeck, which provides a rather comprehensive view into the Twitterverse. Aggregating content also happens to be an area where the Palm Pre does a better job—you can see e-mail from Facebook and Gmail in the same messaging tool, for example.
Zensify is not a must-download by any means, but it is one to watch. As it supports more services and and runs faster, it may emerge as a prime tool for aggregating all of these social networks into one. Still, the pressure is on: if an aggregator is not remarkably better than using individual services (see the goofy iGoogle compared to powerful Netvibes.com), then it is one poorly designed tool that makes every service look bad.
Zensify is compatible with any iPhone or iPod touch running the iPhone 2.1 software update.
[John Brandon is a 20-year veteran Mac user who used to run an all-Mac graphics department.]